Each child perceives the world anew. They are eager to learn and explore the environment around them. But, is the environment safe for them to explore freely? A lot of kids consume edutainment content across different apps such as YouTube, which have a volley of different content – not all suited to kids.
As a parent myself, I set out to look for an app that my child could use independently without my assistance. Not just this, I needed a platform that gave equal weightage to having fun and learning. This is when I came across OckyPocky by WhizKidz Media.
The app comes with a vision to help parents of small-town kids who face challenges with English speaking. The app bridges the gap for 'Bharat' thereby building a better foundation for its future generations at a stage where it really matters, which assists children with their English learning needs using AI/NLP behind the screens.
This app was created by ex-YouTube head, entrepreneur and dad (times two) Amit Agarwal, and allows kids to have fun, learn and grow all at once. This interactive learning app is exactly what several parents are looking for. A hassle-free destination that can be used by kids all alone in a safe environment without parental assistance.
The best part? OckyPocky promises to teach your kids English in a fun and interactive way through gamification. Fun videos, stories, and activities await your child on the app. Through all the enjoyable moments they'll spend on this platform, they will also learn over 2,000 words of English, creating a solid foundation for their future.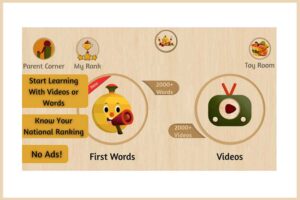 Getting started
Once you have installed the application, you'll be welcomed by a fun jingle and will get the option to choose from English, Hindi or Marathi. Once you've selected your preferred language, you're introduced to OckyPocky – your kid's new best friend. Enter your child's name and age, and that's it, let the uniquely enjoyable learning experience begin!
The top left corner of the screen will take you to the Parent Corner, where you can edit your child's info, choose language, check notifications, and see your rank. Here, you'll also find the customer service tab. The top right corner allows you to stop or start the background music.
Now you can either visit the First Words section or the Videos section. Within First Words, you'll find activities such as Matching, Read, Listen & Learn, and Speak. The Videos tab will take you to a host of options, including Alphabets, Animals, Body Parts, Colours, Shapes, Activities, and several others.
Top USPs and Features
Safe Learning Experience: This app is KidSAFE Seal Certified and is designed for kids from Grade 1 to Grade 8. Parental control helps to set a timer lock which will make sure the kids are using limited screen time.
Technologically superior learning process: OckyPocky is a great app that leverages AI, NLP, and other innovative technologies to enable an interactive learning experience for children. OckyPocky will literally listen to your child pronouncing words and then provide real-time feedback on their efforts. There can be nothing better for a parent. Further, a Magical Proprietary Algorithm detects your child's interest and shows the related videos.
High level of customization: You can add multiple children to the dashboard and change age, gender, and language settings for each of them. OckyPocky provides age-appropriate videos, stories, and activities created by a team of experts who are also mothers. So, you'll always find relevant content. Plus, there is also a Galactic Mind Map which shows what characters, cartoons or rhymes your child has been watching and monitors his evolution. You can download your kid's favourite videos, which they could watch offline.
Learning in the mother tongue: Kids learning English in their mother tongue is a unique concept that has huge potential. This will allow kids to learn English comfortably and retain the concepts much faster and better. Children can learn in English, Hindi, or Marathi.
User-friendly and interactive UI/UX: From the colours to the sounds, everything about OckyPocky is inviting and interesting for the kids. It will never get boring or dull, and children can enjoy hours of independent learning. There is a co-watch zone where parents can watch interactive and activity videos with their kids.
Conclusion
In conclusion, OckyPocky checks all the boxes that a parent could think of. It is a highly useful app that is created with an in-depth understanding of DIY and gamification and can transform your child's early learning experience. For me, OckyPocky is now the first choice for English learning and edutainment content consumption.