Homegrown consumer electronics brand Mivi, which mostly plays into earphones, speakers and other mobile accessories, today launched two made in India soundbars – Fort S60 and Fort S100 – with an aim to disrupt the home audio segment. Both the soundbars come with in-built subwoofers that produce a deep and powerful bass while being compact. They have been made keeping in mind the space limitation in our homes and our love for bass.
The products have been manufactured at Mivi's Hyderabad plant and are exclusively available on Flipkart and the company's website. The Mivi Fort S60 is priced at Rs 3,499, whereas the Fort S100 will cost you Rs 4,999.
Midhula Devabhaktuni, Co-founder and CMO, Mivi, said, "We are proud to launch the Fort series of soundbars that are not just Made in India but are also Made for India. We've spent months curating and manufacturing these products to perfection and believe they will revolutionize the home audio segment."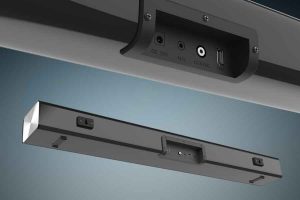 These soundbars have a 2.2 channel that offers an immersive surround-sound experience. The 2.2 channel system produces balanced sound with powerful bass to enhance your home entertainment experience, whether you are watching a movie, listening to music, or playing games. Thanks to their slim and sleek form factor, these wall-mounted soundbars are designed to complement your room's aesthetic.
Also Read: Mivi launches ThunderBeats 2, ConquerX Bluetooth neckband earphones
In terms of technical features, the soundbars come with an easy plug and play option with various input modes, such as Bluetooth, Aux, Coaxial and USB. These make them a complete package for users who wish to enjoy a cinematic experience in the comfort of their own homes.
Both the Mivi soundbars also offer a remote control that allows you to control their functions and volume setting. In addition, they come equipped with three sound modes – Music, Movies, and News – which are of a great help when you are watching or listening to something. You can select your preferred sound settings to enjoy the content.
Mivi currently employs a 700+ strong team working out of Hyderabad and aims to establish itself as the go-to brand for consumers in the electronics segment.
Also Read: We are now living in the TWS era, says Mivi Co-founder