iQOO today expanded its Z series portfolio with the launch of Z5 in India. The smartphone promises to offer unparalleled performance and robust hardware specifications preferred by millennial and Gen Z consumers.
The iQOO Z5 comes power-packed with the Qualcomm Snapdragon 778G 5G processor, enhanced LPDDR5 and UFS 3.1, 5000mAh battery with 44W FlashCharge and 64MP AF main camera.
iQOO Z5 is a true gaming powerhouse with features including 240Hz touch sampling rate, 4D Game Vibration, Linear Motor, High-Res Audio, Dual Speakers and Liquid Cooling Technology for heat reduction, ensuring a truly immersive and long-lasting gaming experience.. iQOO Z5 also offers exceptional design that complements class-leading performance to offer a #FullyLoaded experience for our Genz consumers.
Priced at Rs 23,990 for the 8GB+128GB variant and Rs 26,990 for the 12GB+256GB variant, the iQOO Z5 will be available for purchase on Amazon.in and iQOO e-store in two elegant colour options- Mystic Space and Arctic Dawn starting 6th October, 2021.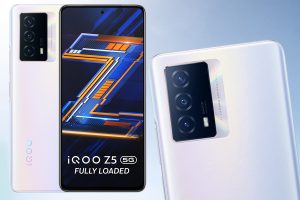 Gagan Arora, CMO, iQOO, said, "Continuing the philosophy of iQOO Z Series, of launching devices with best-in-segment features, we are delighted to launch the iQOO Z5 in India. iQOO Z3 received an overwhelming response from our consumers for its ground-breaking features.
The iQOO Z5 will continue the legacy of combining powerful specs and innovations for users who demand a flagship mobile experience. Featuring the latest Qualcomm Snapdragon 778G 5G Mobile Platform, the iQOO Z5 is a fully loaded smartphone that delivers ultimate performance, lag-free mobile gaming and multimedia experience, making it a great choice for performance driven customers."
The Qualcomm Snapdragon 778G 5G processor in iQOO Z5 includes 8-cores and is created using a 6nm process offering remarkable efficiency. This superb mobile platform offers 40 per-cent better performance compared to its predecessor and enables users to enjoy fully immersive gameplay with realistic graphics.
The device also sports an enhanced LPDDR5 with 6400 Mbps theoretical speed along with UFS 3.1 flash memory which loads apps and games significantly faster, offering a flagship-level experience.
Supported by 44W FlashCharge technology, the iQOO Z5 is packed with a massive 5000mAh battery. The device can charge up to 50% in just 23 minutes, reducing charging time to match the fast-paced lifestyles of modern-day smartphone users. The iQOO Z5 also features Extended RAM 2.0 made possible by Multi-Turbo, which can extend a part of the memory to be used as extra RAM. This feature effectively allows 8GB RAM to be extended to 12GB – resulting in enhanced overall performance. This allows applications to run simultaneously with minimal lag and makes them start faster too.
The iQOO Z5 is designed to provide an unparalleled experience to E-sports enthusiasts. For starters, the iQOO Z5 features an advanced 16.93 cm (6.67-inch) display with 120Hz refresh rate that helps users in achieving more detailed and smooth visuals during gameplay.
The iQOO Z5 also houses the #FullyLoaded flagship Liquid Cooling System, with a total heat dissipation area of 28837mm2 which can efficiently reduce the surface temperature of your mobile during heavy-duty gaming scenarios and deliver a lag-free gaming experience.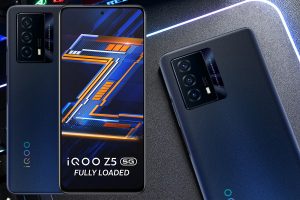 Offering the best in segment performance, the iQOO Z5 has an ultra-responsive screen with a 240Hz Touch Sampling Rate. With this rate, the touch IC collects 240 frames of finger touch information per second and the touch signals are collected every 4.17 ms for lightning-fast user input reactivity..
iQOO Z5 adapts a Z-axis Linear Motor perpendicular to the front screen to provide faster response along with stronger & straightforward 4D Game vibration for better haptics. The Linear Motor vibrates back and forth to deliver an excellent vibration experience when the phone is held horizontally with both hands.
iQOO Z5 features surround sound with dual speakers to provide an enhanced audio experience while playing games or watching videos with a wider 3-D sound field iQOO Z5 has a has Ultra Game Mode 2.0, which helps in easy switching between "Monster mode", "balanced" and "Power Saving" mode while optimizing the user interface.
The device also comes with a 3D curved design having a frosted texture on the back which is ergonomically designed to better fit into the palm of your hands and provide a better grip coupled with an elegant appearance. All these features ensure that iQOO Z5 is running at its optimum when users are amidst an exciting e-sport battle.
The iQOO Z5 is equipped with a triple rear camera system, featuring 64MP AF main camera, 8 MP wide-angle camera and a 2MP macro camera. The impressive 64MP AF main camera is supported by the GW3 sensor which automatically optimizes your photos to produce the best results possible across all the scenarios.
The 8MP wide-angle camera s offers 120° wider view and the 2 MP super macro camera captures up to 4 cm closeup shots. The device also features a Super Night Mode, which adds depth to your pictures and specialized night filters to deliver a bright and clear image during night scenes.
iQOO Z5 also supports Dual View Video which allows users to record both the details of a subject and the view around, displaying both the close-up and wide-angle views at the same time.