Brief Summary
Infinix has come a long way and is one of the leading smartphone brands in the world sharing the spotlight with the likes of Apple and Samsung. It has churned out many notable devices in the past few years and setting newer benchmarks with many of them.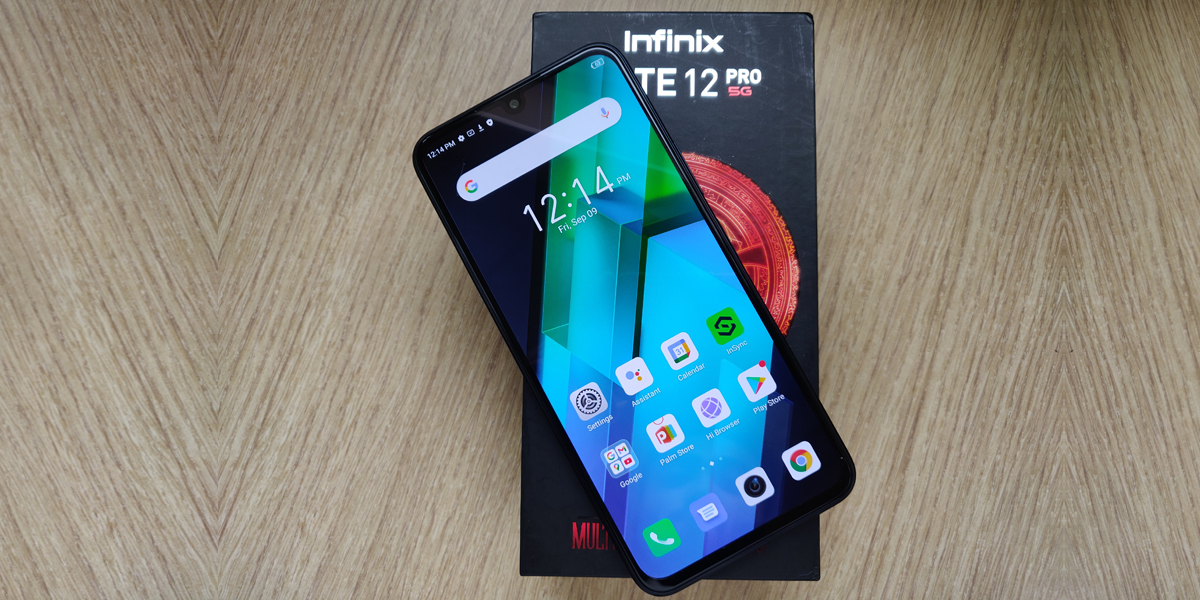 If you're looking for a smartphone of topnotch quality at a relatively affordable price, look no further than Infinix, which has gained the knack of enticing its loyal customers by piquing their curiosity regarding their latest smartphone models.
Infinix Note 12 Pro 5G is the newest addition to the list of Infinix mid-range smartphone segment and it is this uncanny ability to know the pulse of the audience is what makes your products successful.
What is interesting is that Infinix is among those brands that always has something new to offer in their devices all the time and while some viewers may find similarities with the previous models, it goes without saying that they will still find the new handset up their alley.
My Opinion
2022 has been a very good year for Infinix as it has launched three separate smartphone for its Note 12 series- Infinix Note 12, Infinix Note 12 Turbo, Infinix Note 12 5G, and now, Infinix Note 12 Pro 5G.
As mentioned, these smartphones are almost indistinguishable from one another but can be told apart by those that are familiar with their features and specifications, which is something that cannot be found in other smartphones.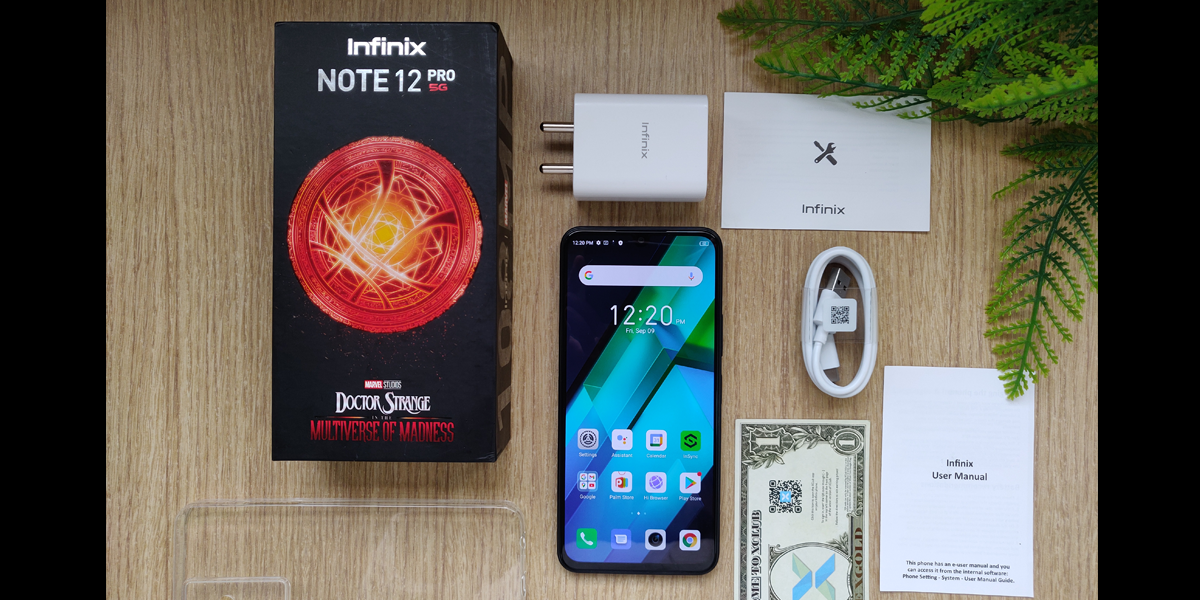 Infinix Note 12 Pro 5G has come in a black rectangular box with the brand 'INFINIX' at the top and beneath it you get 'Note 12 Pro 5G' with the Doctor Strange Logo imprinted in the middle and finally, at the bottom you will find 'Marvel Studios' and beneath it 'Doctor Strange in the Multiverse of Madness', which is because Infinix has collaborated with Marvel on the project.
Upon opening the box, you find the 12 Pro 5G model in all its glory wrapped in a cover and the charger is kept at the bottom along with the manual on how to operate it and its functions in a detailed manner.
The device is slightly heavy but can be held easily in a single hand and just as anybody, I held the device delicately as though it was a cute pet I had purchased from the shop. In fact, smartphones are an integral part of our life that we cannot exist without and I too felt the same upon holding the handset.
It has a plastic body that some might find the build quality of it very cheap but I felt it quite comfortable and sturdy upon holding it and despite the slight heaviness, it was fairly lightweight to hold at just 185 g.
It is very easy to hold for a person with big hands but those that have smaller ones may find it difficult to contain due to the 6.7 inch display screen. But these things are immaterial to a gadget lover who wants nothing more than his money's worth.
A customer's main concern is whether the newly launched device of the reputed brand will live up to his expectations or not and Infinix Note 12 Pro 5G passes the test with flying colours.
Features & Specifications
As mentioned already, it comes with a 6.7 inch AMOLED display screen with a 60Hz refresh rate, which is the same as Note 12 Turbo with a massive spectrum of colour that looks quite vivid when you play games and watch videos on it.
There is a notch design at the front for the front camera and a fingerprint sensor at the back that is quite fast and although I am not that fond of taking selfies every second, I find it appealing enough to mention it to the viewers.
It is powered by the Mediatek Dimensity 810 5G, which guarantees a powerful performance but upon examining, it doesn't feel that good in terms of speed and seems a little outdated.
The handset has many games that work with no issues and I played the BGMI myself to confirm it and the HDR graphics were quite good although if you're a gaming addict and play for many hours non-stop, you are liable to experience a frame freeze and frame drop that will lead you to lose the combat.
It has a triple rear camera setup with a 108MP primary camera, 2MP macro camera, and a 16MP selfie camera for selfie enthusiasts and they are all quite good, especially the 108MP camera that takes sharp images with a nice range of dynamics.
The other 2MP camera lenses are so-so and therefore nothing much to write home about with no wide-angle camera to see either but if you have a camera app, then you can use multiple modes like the super light mode.
It also comes with a battery power of 5,000mAh units and although it is good, you should not use it heavily because it is essential to have a decent battery by the end of the day and with average usage, I get battery life of 1 to 2 days.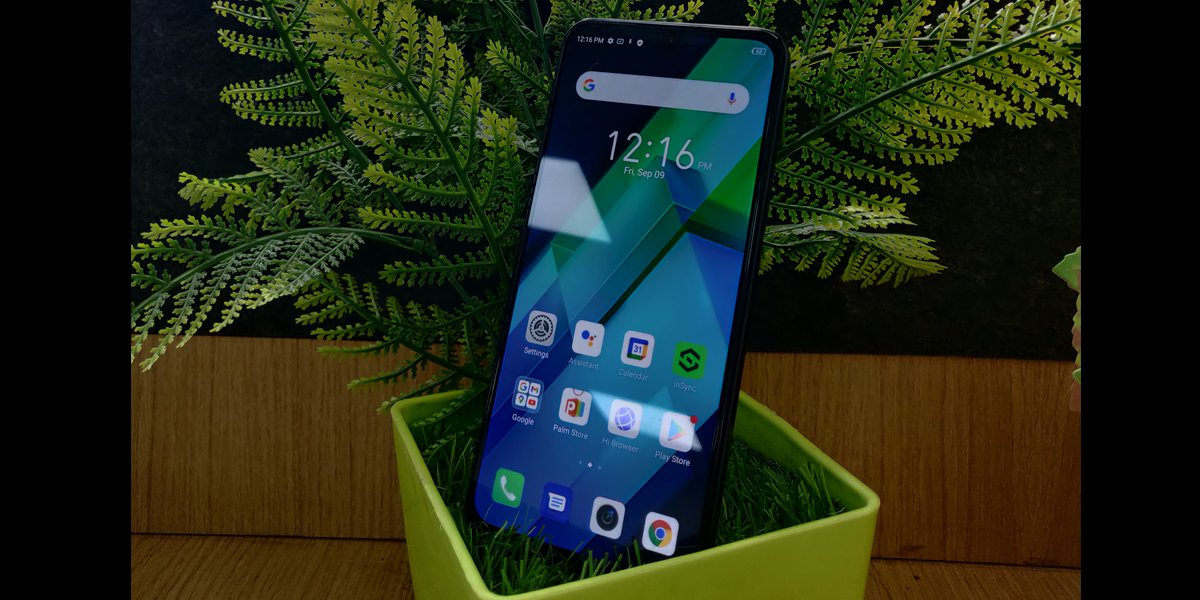 Conclusion
All in all, a worthy device worth trying out and well worth your money with decent enough ROI in the near future. It is available at a starting price of Rs.17,999, which is quite affordable considering today's rates.
I must admit that it could have had a powerful processor given the display and speakers, it is still a deal worth considering for those folks that are more into playing games and watching videos.
Also Read: Infinix Hot 12 Pro as it goes on sale