Homegrown gadgets and smartphone accessories maker iGear has launched DockMe, a multi-brand smartphone charging dock, into its existing range of charging stations. The iGear DockMe is a unique 360-degree rotating, 3-in-1 charging dock that can charge smartphones of all brands irrespective of their charging ports, with an option to simultaneously wireless-charge an additional smartphone or accessory.
Neha Sharma, Co-founder, iGear, said, "The iGear DockMe is a very unique, affordable and multi-brand smartphone charging solution for every home or office. While the three-sided physical charging dock can refuel almost any smartphone out there, its 360-degree rotating feature also doubles up as a smartphone stand – great for video chats or working from home too. The new DockMe can also simultaneously wirelessly charge another compatible smartphone or accessory, giving you an option to get rid of multiple chargers and ugly wire clutters on your desk."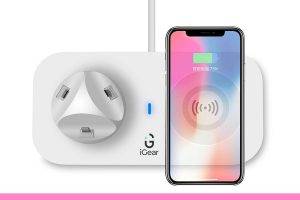 A three-sided wired charging dock is situated on the left, while the right side features a wireless charging pad that allows you to simultaneously charge a second wireless-compatible smartphone or accessory.
The iGear DockMe 3-in-1 dock-cum-stand has three sides to it, but can hold and charge just one smartphone at any given point in time. The dock has all three available types of charging ports – Apple's proprietary Lightning port and Android-compatible microUSB and Type-C ports. The dock positions the smartphone at a comfortable viewing angle so that it can also be used for work or video calling. Additionally, the dock also rotates around by 360° allowing you to position the smartphone to face in any direction.
The wireless charger, though meant specifically for charging accessories at 5W, can also slow charge most smartphones. Lastly, the dock features a small blue power LED between the dock and the wireless charging pad for visual indication of charging. The iGear DockMe can be powered by any available smartphone charger.
A superb option for gifting too, the iGear DockMe is available in white colour for an introductory price of just Rs 1,500 and comes with a standard industry warranty of 1 year. It's available on Amazon and Flipkart.