Technological advancements are here to make our lives easier every day with new updates and features being added to our favourite gadgets and applications. Another such advancement is Fintech company Paytm's latest payment mechanism, the Tap to Pay feature that lets you make easy NFC payments through your bank accounts using your smartphones.
Similar to Samsung Pay and Google Pay, this technology allows its users to make easy payments during retail or otherwise purchases at Point of Sale (PoS) machines via NFC. Such payments do not need the physical presence of your debit or credit cards at the time of payment. The Paytm Tap to Pay feature works without an internet connection making it a feasible way of payment in a situation when your mobile network connectivity is weak.
Apart from being a hassle-free payment method, using the NFC payment mechanism also ensures cyber safety. It should be appreciated that because of card-free payment enabling, the users now would not have to share their card details at every outlet, which runs the risk of compromising the privacy of the users.
As for iOS users, Apple has locked the NFC payments for Apple Pay only so anyone using an iPhone would not be able to use this feature on the Paytm app. Apple Pay is yet to be launched in India.
To be able to utilise this card-free payment method, users will have to add their bank cards to the Paytm app. As a next step, the tokenisation of your bank card will be completed online so that it can be used on payment machines. Users can follow the below-mentioned steps to use the NFC enabled Paytm Tap to Pay services on their android smartphones.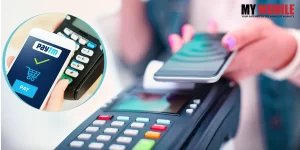 Here's how to make payments using Tap to Pay on your smartphone:
Unlock your smartphone and make sure the NFC is turned on.
Hold your smartphone close to the PoS machine, near the contactless payment logo.
Do not remove your smartphone until the transaction is completed.
For transactions above Rs. 5000, enter your PIN on the PoS machine.
Check your smartphone screen for a message informing you of a successful transaction.
Here's how to quickly set up Tap to Pay functionality on the Paytm app:
Update your Paytm app by visiting the Google Play store.
Open the Paytm app, then select Tap to Pay.
Tap Add New Card at the bottom if you do not have any cards saved.
Enter your card details on the next screen, and tap Proceed to Verify Card.
Make sure to read and accept the card issuer's Terms of Service.
Enter the One Time Password (OTP) to complete activation of Tap to Pay.
The Paytm Tap to Pay feature can be used at various locations including retail outlets and grocery stores for purchases and other types of payments. All that is needed is an NFC-enabled card payment machine at these outlets.