Security is something that doesn't need any explanation. It is required everywhere- be it home or office. Safeguarding our families and the valuables is the foremost task of every individual and that's why a good investment is necessary. Therefore, Grestok has the perfect solution for your security needs with its latest Smart and Standalone Security Devices.
Grestok announces new smart security devices that can cover all your security needs including personal, home, and office. Additionally, the quality and functionality is far more superior making your investment much fruitful as well as meaningful. The brand has made its debut in India with Bengaluru-based Tekkitake.
Grestok launches new Smart Security Devices: details
Designed to keep you and your family, your home and your office, secure at all times, Grestok presents smart security alarms that are based on motion. Each of these devices can sense the smallest of movements and instantly alerts you remotely, while also wading off the intruder with a loud alarm and warning lights. Pick from the list that suits you the best. Here are your options:
Grestok Smart Wi-Fi Motion Alarm with Passive Infrared Sensors
Armed with a smartphone app, this motion alarm can sound off a loud 120dB siren along with flashing lights to wade off any intruder, while instantly and simultaneously alerting you on your mobile about the intrusion or even the slightest movement in the area. Powered by batteries (3xAAA), or using a 5V micro USB with a power adapter, the alarm system has a 360° coverage option with a sensing range of 10m — thanks to the smart design which allows it to be swivelled or tilted in any direction you need. It can be wall- or ceiling-mounted, making it one of the most versatile smart motion sensors on the market. All you need is to link it with your home or office Wi-Fi and pair it to your smartphone using the SmartLife or TUYA app, and you're done. Lastly, it also comes with a remote so you can silence it in case of accidental triggers. A perfect security device add-on for your home, villa, condo, farmhouse, office, warehouse, storeroom or garage.
Grestok Smart Wi-Fi Door Security Alarm with Infrared Sensors
A smart sensor to have around your home, office, shop or storeroom — simply mount it on your doors, windows, cabinets or cash drawers, connect it to your Wi-Fi and pair it to your smartphone using the SmartLife or TUYA app. The smart door security alarm will sound off a loud 120dB siren, flash a red light, and simultaneously alerts you on your smartphone, the moment it senses a monitored door being opened.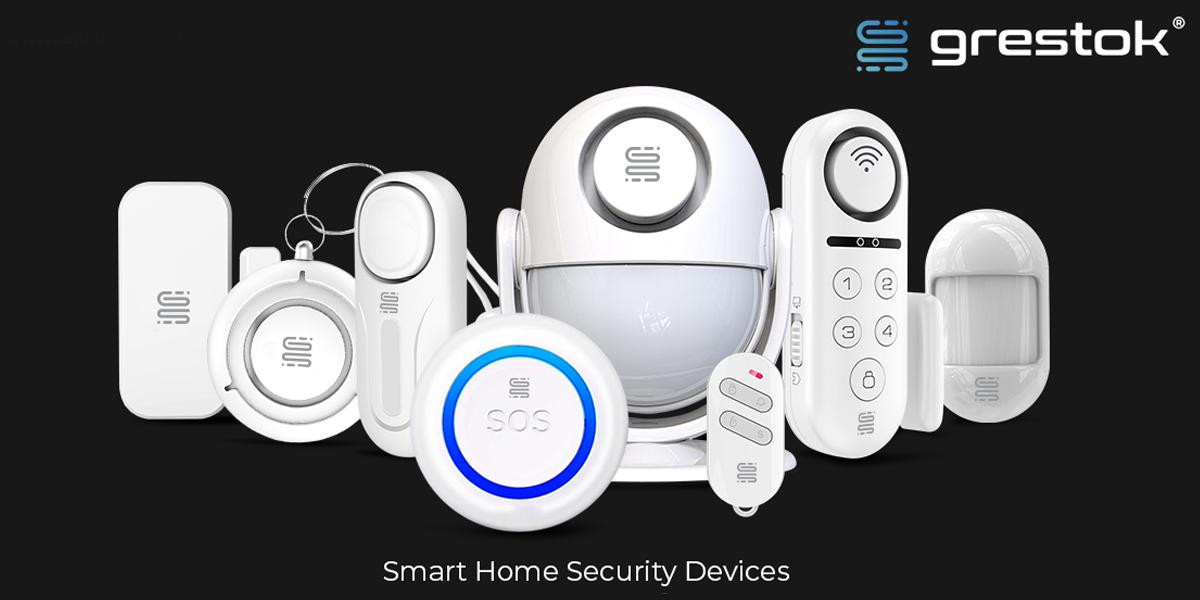 Great for those who have kids too — prevent them from sneaking out of home, or tampering with areas they are not allowed. The alarm also has a keypad with a secure PIN number to disarm it in case of accidental triggers. You can also pair it with Amazon Alexa or Google Home and know the status without touching your smartphone.
Grestok Smart Wi-Fi Motion Sensor Alarm Kit with Passive Infrared Sensors
If you have a large home or office, or simply are looking for a security solution for a larger space — the Grestok Smart Wi-Fi Motion Sensor Alarm Kit is a great solution. Consisting of the Smart Motion Alarm and Smart Door Alarm and including a PIR motion sensor, this kit can cover a large area with a single smartphone app and remote control. With the smart kit, you can secure your entire home, office, warehouse or garage and monitor them remotely using your smartphone. All you need is a wireless connection at the premises.
Grestok Standalone Motion Sensor Alarm with Infrared Sensors
If you don't have Wi-Fi in the area or simply don't need a smart feature, you can also opt for the Standalone Motion Sensor Alarm. It offers all the features of the Grestok Smart Wi-Fi Motion Alarm except the wireless connectivity. The loud alarm and flashing lights can alert everyone in the area or wake you if you're asleep. Optionally you can also connect an external or remote alarm system by taking advantage of the 3.5mm stereo audio-out port.
Grestok Standalone Door Security Sensor
This security alarm is similar to the smart variant, sans the wireless connectivity and the keypad. IT works as a simple door open sensor with a loud 120dB siren and flashing red lights. Unlike the smart sibling, the Standalone alarm can be controlled using the bundled remote control, to turn off the siren or reverse the sensing action.
Grestok Door & Window Security Alarm Kit
Expand your security needs with this kit. It is a combination of the Standalone Door Security Sensor Alarm (main unit), a Window Sensor and a PIR Motion Sensor, along with a remote controller all paired to each other. The kit is very compact and extremely easy to install. All units are battery-powered and last for months on a single set of batteries.
Grestok Personal Emergency SOS Alarm Siren
This SOS alarm siren is great for personal use. It comes in very handy for women, children and the elderly. When you need personal security, there's nothing that can beat the first mode of defence — attract the attention of everyone in the vicinity. Built like a keychain and equipped with a long-lasting battery, the Grestok Personal Emergency SOS Alarm Siren can alert everyone around you with a deafening 130dB siren. The unit is very compact and can be easily carried around in your pocket or purse. The alarm is extremely simple to use — all you need to do is pull out the pin from the main unit and the alarm goes off. You cannot turn off the alarm unless you insert the pin back into the unit.
The Grestok security alarms and sensors can be purchased from Amazon or from Tekkitake.com. Every product carries a standard 1-year warranty.
Also Read: Top 5 Smartphones Under Rs 10,000