Google has stated that it is developing a new version of its conversational AI model, LaMDA 2. However, just creating the conversational AI wasn't enough to test the technology right. Hence, it has created an app called AI Try Kitchen to test it out. Google has clearly stated that the Conversational language models aren't exactly where we'd like them to be yet. There's much room for improvement and enhancements. Therefore, the AI Evaluate Kitchen is created to explicitly test LaMDA's ability to read and respond to spoken language.
The AI Test Kitchen will debut with three demonstrations of how Google is refining its conversational AI models. These models come with not just different titles, but pre-decided goals of their own. The three demonstrations are named Imagine It, List It, and Talk About It. Because these are merely experiments, the results also don't have any standards set. Some unexpected results are expected from these. Also, Google has asked to provide comments for each response LaMDA provides. This is how they're planning to improve it.
Imagine It
The first is Imagine It, a demo in which you may ask the app a question that begins with "Imagine if…" The tester can type anything here, and the LaMDA model will respond with a full description of what you could see or feel in the circumstance you described.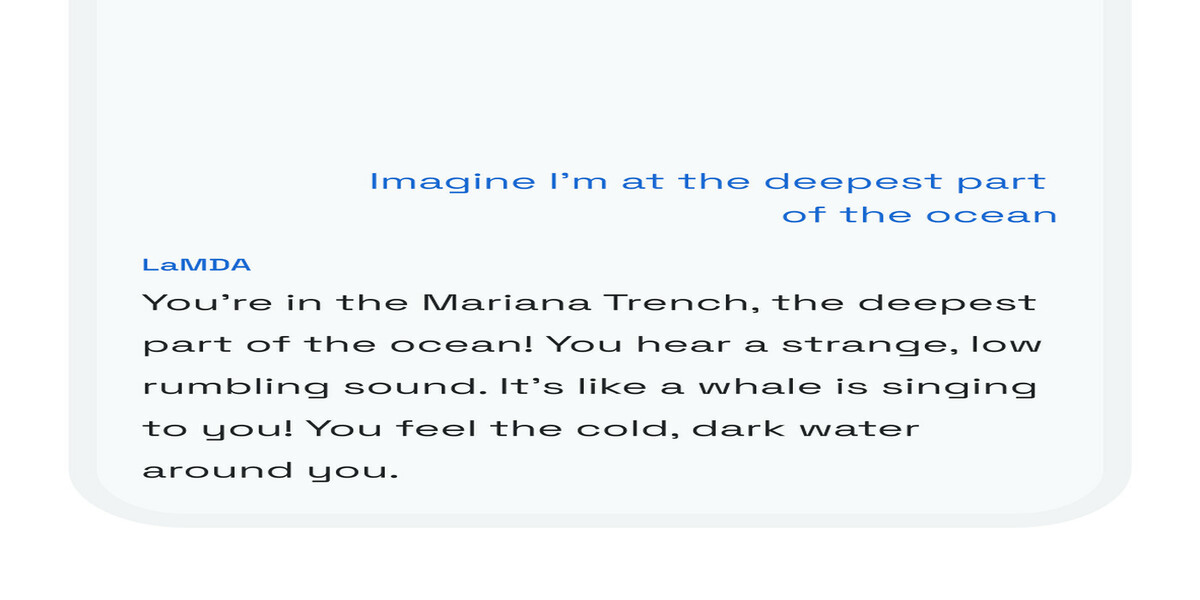 For example, you may ask it to visualise the deepest section of the ocean, and the model will answer with a description of Mariana's Trench. You may then ask more questions to acquire progressively specific descriptions of the scene you wish to envision. So, this is how you can actually dive deep into the ocean without even actually being there.
List It
List It is another intriguing demo. It involves feeding LaMDA a concept for something you wish to achieve. It will show LaMDA 2's ability to "break down a complicated objective or issue."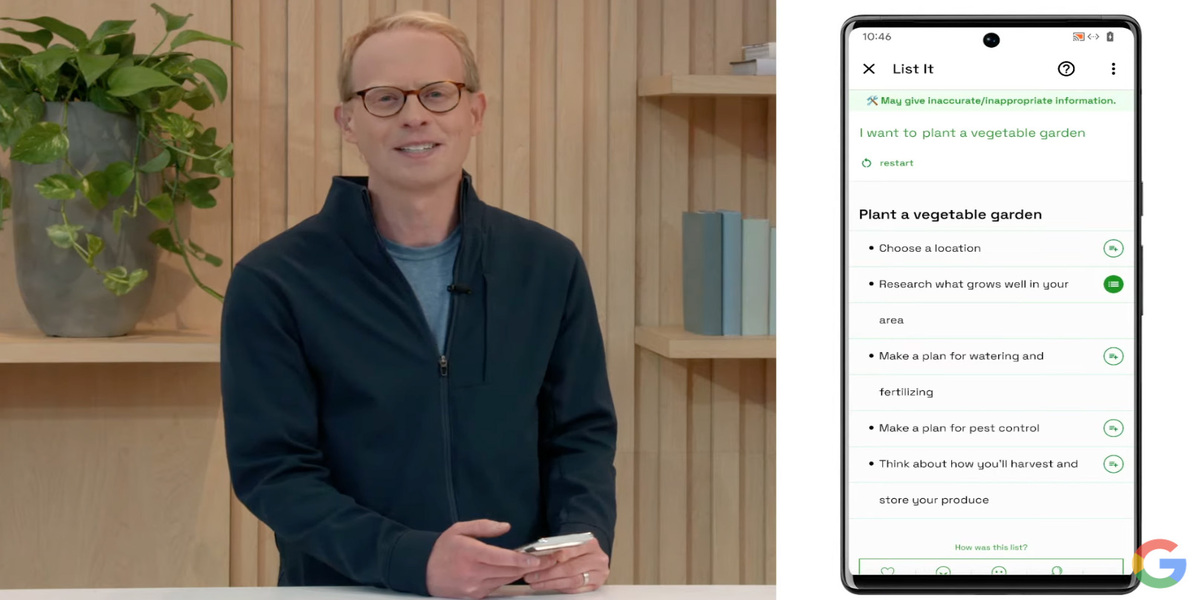 Users can pose questions like "I want to learn ukulele" or "I want to plant a garden" in this part, which is called List It. LaMDA will produce a list of subtasks to assist you in getting started, and according to Google, it may even suggest ideas you hadn't considered. In addition to providing you with the names of veggies that you can produce, AI Test Kitchen may also provide you with a set of instructions or meteorological conditions to consider. During the demonstration, the app provided a bit of advice for those with limited space, recommending plants that would flourish in smaller gardens.
Talk About It
Finally, the last example is designed to address a unique difficulty that conversational AI models face: keeping on one topic throughout a discussion. This demo encourages the user to begin a conversation about a topic.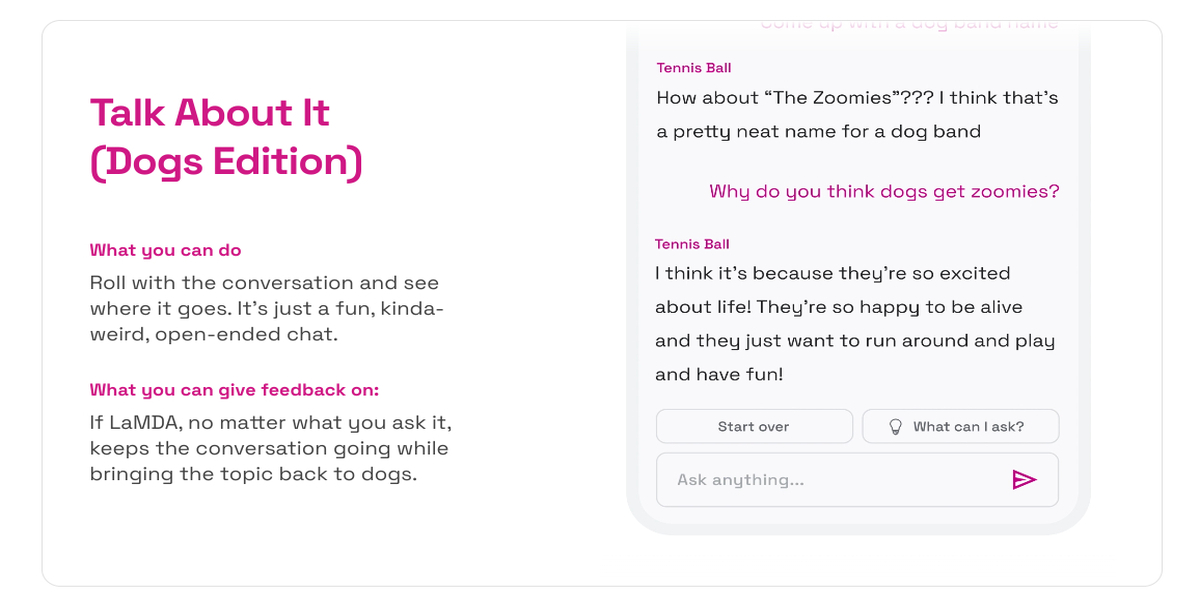 Like during the demo, the app started by asking "Have you ever wondered why dogs like to play fetch so much?" In its responses to simple follow-ups like "Why is that," the system replied with more information about dogs and their senses of smell. The goal is to assess how successfully LaMDA can bring the discussion back to the original issue.
According to CEO Sundar Pichai, Google is using this app in part to gather feedback on its new AI model. It will open up access "over the coming months, carefully assessing feedback from the broad range of stakeholders — from AI researchers and social scientists to human rights experts." Pichai said these findings will be incorporated into future versions of LaMDA. He added that, over time, the company intends to "continue adding other emerging areas of AI into our AI Test Kitchen."
If you want to try it out for yourself, you'll have to wait a little longer. Google says it's starting with small groups and gradually extending the AI Test Kitchen app, so you might not be a part of it right immediately.
Also Read: iQoo Neo 6 with Qualcomm Snapdragon 870 5G chipset and 80W flash charge to be launched on May 31