With an aim to enhance competencies of about 4 lakh Gramin Dak Sevaks and departmental employees, an e-learning portal of the Department of Posts has been launched.
Named 'Dak Karmayogi', the e-learning portal was launched by Ashwini Vaishnaw, Minister of Communications, Railways, Electronics & IT, and Devusinh Chauhan, Minister of State for Communications.
The newly launched portal, developed 'In-House' under vision of 'Mission Karmayogi', will enable trainees to access uniform standardized training content to enable them to effectively deliver a number of G2C services for enhanced customer satisfaction.
A system generated course completion certificate will be sent automatically on registered email id of the trainee on successful completion of final summative assessment. Participants will be able to share their feedback, ratings and suggestions for each and every video and other learning content to ensure necessary enrichment.
With the launch of 'Dak Karmayogi', training will be available to Departmental employees and Gramin Dak Sevaks any time any where.  This will help them upgrade their attitude, skill and knowledge (ASK), as per their convenience. The portal is expected to go a long way in being an enabler in providing better services by upgrading employees and Gramin Dak Sevaks.
Currently, Department of Posts offers training to its employees through its network of 10 Postal Training Centres/Regional Training Centre and a central training institute named Rafi Ahmed Kidwai National Postal Academy (RAKNPA).
Vaishnaw also conferred Meghdoot Awards in eight different categories to recognise the good performance of employees of Department of Posts and motivate them to maintain or improve their good work. Devusinh Chauhan, Minister of State for Communications was also present during the event.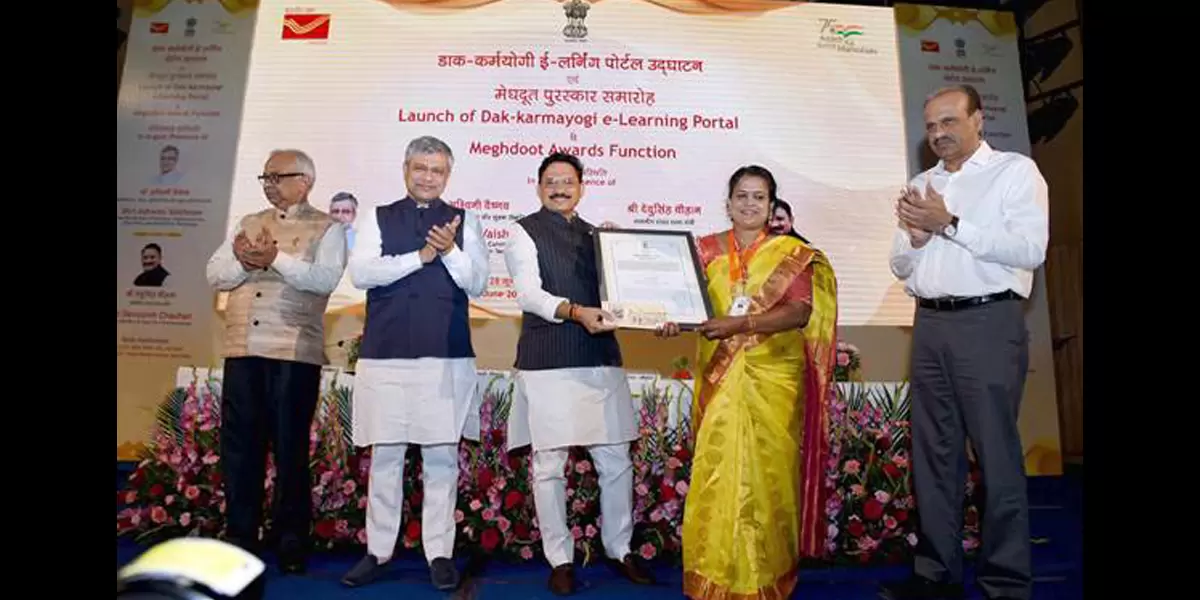 The function was held at Stein Auditorium, Indian Habitat Centre on June 28.
Ashok Kumar Sahoo, GDS BPM, Cuttack South Division, Odisha Circle, Prem Lal, Mail Runner, Mandi Division, Himachal Pradesh Circle, Dhananjay T, Postal Assistant, Circle Office, Karnataka Circle, Vijender Singh Rana, Technical Supervisor, Mail Motor Service, Delhi Circle,  Sandeep Gundu Kadgaonkar, ASP, Goa Region, Maharashtra Circle, Randhir Kumar, Assistant Director, Circle Office, Bihar Circle, Challa Sri Nagesh, Deputy Manager, CEPT, Hyderabad, K Kalaivani, Assistant Director, Southern Region, Madurai, Tamil Nadu Circle have been awarded the Meghdoot Award, introduced in 1984. Awardees are conferred with medallion, certificate and cash award of Rs 21,000.
Also, Read Here: ESFI questions clubbing of Esports with Fantasy in draft of Rajasthan Virtual Online Sports (Regulation) Bill 2022
Meghdoot Award is the highest award of Department of Posts at National level for overall performance and excellence. This award is conferred in eight categories.