In Brief
Diwali is one of the most popular festivals not just in India but the whole world, which is being celebrated since time immemorial but is most exciting about it is the age-old tradition of showering loved ones with gifts and bringing a smile on their face.
It isn't easy to come up with the "right and suitable" gift that reflects the unbreakable bond with your near and dear ones but also does excellent in terms of utility and given the ocean of tech, to purchase an adequate tech gift for your loved one is extremely hard but, luckily, OPPO will ease things up a bit.
Given below is a compilation of some of the best OPPO IoT Products to make this a memorable Diwali that sparkles bright for your family and friends. These are all products from OPPOverse that are readily available with excellent discounts offers on e-commerce portals like Flipkart, Amazon, and mainline channels.
OPPO is also having special offers for its loyal community members, such as 'Double Points' and 'Super OPPO Day'. As part of the Super OPPO Day, customers that buy the Pad Air across all channels can take part in a lucky draw where the winner gets a Rs.10 lakh grand prize in cash, which'll be followed by some other attractive prizes of the draw.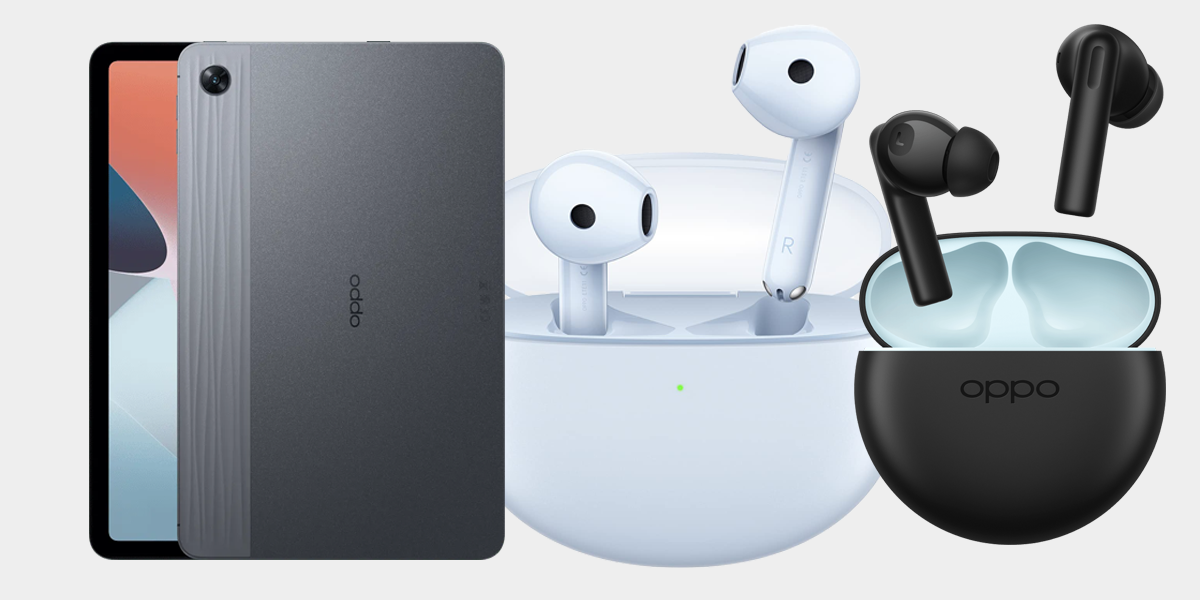 OPPO Pad Air
In this day and age where work-from-home has become a common thing, tablet computers have become more relevant than ever.
So if you plan on gifting one to your family member or a friend, then OPPO's first tablet, OPPO Pad Air, is an excellent option to begin with.
It is capable of handling advanced tasks such as hi-res video streaming and 3D mobile games whilst saving battery power at the same time.
It includes features such as the power-efficient '6nm' octa-core Snapdragon 680 processor-coupled with AI System Booster 2.1–for smooth multitasking without lag.
Those with ICICI and Axis Bank cards can avail 10% cashback on purchases of over Rs.5000 on OPPO products from Flipkart.
The purchase of OPPO product from Amazon will get a 10% cashback on transactions made through SBI bank cards.
OPPO's has a unique 'Pay Nothing Offer' through which customers can get an OPPO product on zero down payment schemes available through leading financiers.
(The Aforementioned festive offer holds true for all the devices mentioned below)
OPPO Enco X2
If your friend or relative is a music aficionado, then you must consider the OPPO Enco X2 earbuds on Diwali. The Enco X2 is the flagship TWS earbuds with industry-leading ANC and a segment-first Dolby Atmos Binaural Recording.
It also comes with the next-generation Super Dynamic Balance Enhanced Engine (SuperDBEE) acoustic system co-developed with Nordic audio giant Dynaudio allowing users to enjoy their favourite music on the go.
The Enco X2 isolates and 'removes' unwanted sounds and preserves the original audio signal owing to the 45dB depth and 4000Hz width ANC.
OPPO Enco Buds2
This one is a pocket-friendly earbud and is the best choice in the price range for people that like to groove during the festive season.
It is the best in class wireless stereo earbuds that easily adopts a 10mm large driver that moves more air into your ears to give a good bass performance.
Users can avail these earbuds that supports seven hours of listening on full charge along with a fast charge of just 10 minutes through which users can enjoy an hour long music.
The Earbuds also come with low-latency Bluetooth® 5.2 Transmission with an AI deep noise cancellation that simulates binaural hearing making it the perfect fit for clear calls.
OPPO Enco Air2
To avail topnotch audio quality with panache, this one is a true wireless earbud creation is a good option to try out in the festive season.
It comes with a 13.4mm dynamic driver where users can avail the option to choose from 2 different stereo sound effects combined with user-focused details.
The earbuds have a 24-hour long-lasting battery life, double-tap camera control, and a creative translucent case lid design making them unique in their price segment.
OPPO Watch Free
To get an OPPO Watch Free for your fitness savvy friend or sibling is the ultimate Diwali gift they can hope to have as it is stylish, contemporary, and with a design that is lightweight.
Consumers can avail an all-scenario sleep monitoring feature that will allow them to have a good night's sleep like never before. Also, they can avail 100 sports modes and professional health monitoring, which will make it an ideal smartwatch for youngsters.
Finally, it comes with a built-in professional running courses through which you can achieve fitness and fat-burning goals more efficiently. Coming to long battery life, it is for 14 days with a single full charge, while just 5 minutes of charging will get you a full day of use.
Also Read: OPPO launches OPPO Enco Buds2 in India