With WhatsApp becoming the integral part of our regular lives, messages, video and voice calls are mostly done with this Facebook-owned messaging app. Boasting more than 1.5 billion daily users, WhatsApp is the most popular chat platform in the world. But, oftentimes, while switching to a new phone or for some other reasons, we lose important conversations that can be very disappointing.
Although users can delete messages that are sent accidently, the instant messaging app don't allow the deleted conversation's information to be rescued. If you are someone who want to recover any deleted messages on WhatsApp, we are here to help you out with it. In this article, we'll help you learn a simple way to recover deleted WhatsApp messages on your device.
WhatsApp Chat Backups
To retrieve deleted WhatsApp conversations, users must have enabled 'Chat Backup' in the app's settings. To do this, click on the Settings on the bottom, open the three dot menu at the top right and select Settings. From there, go to Chats > Chat Backup. Here (under Auto Backup on iOS and Back up to Google Drive on Android), WhatsApp offers several backup frequencies, Daily, Weekly, Monthly, and Off.
On Android device, WhatsApp make a local backup every night, but this would not help if you lose your mobile. That's where cloud backup becomes important.
By having daily auto-backups, users will be able to recover WhatsApp messages easily soon after losing them. On the other hand, weekly auto-backups will allow users to go further back in time to retrieve deleted messages, at the expense of losing recent chat messages.
Also Read: How online identity verification can help MNOs reach the full potential of eSim technology
How to retrieve deleted WhatsApp messages?
If you are wondering how to recover deleted WhatsApp messages after backing them up, there are a few requirements. First of all, you need to use the same mobile number and Google account that was used to create the backup on Google Drive in the first place. So, here's a simple step to follow to restore your WhatsApp backup from Google Drive on Android:
Step 1: Uninstall WhatsApp from your Android phone and then install it once again
Step 2: Open the app and enter your registered mobile number. It will sent an OTP to certify the number
Step 3: When prompted, click on 'Restore' option to restore WhatsApp chat backup
Step 4: WhatsApp will then look into Google Drive for the backup and will download it on your smartphone
Step 5: After the completion of restoration process, tap on Next.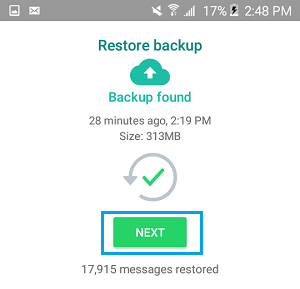 Note: Users must ensure that any message received after the backup time can't be restored.
The above method of recovering deleted WhatsApp chats works on both – Android and iPhone – as long as you have a backup. Keep in mind that you can only recover backed-up messages within your selected auto-backup frequency. If you have set the WhatsApp to backup daily, you can recover any deleted chats before the next daily backup occurs. But if the app has made a new backup since you deleted certain messages, then they are lost for good.