Does coding sound like a subject only for science or math-inclined students? Does it sound very technical, classy, and scary? Do you feel intimidated or overwhelmed every time someone talks about it? Maybe you are not reading the right articles or using the right app!
CuriousJr is a mobile coding learning app for kids between 8 and 17, based on fun coding games to teach the basics of programming. Started with the idea of enabling students without laptops to learn to code on their mobiles, it was founded by Mridul Ranjan Sahu, Amit Shekhar, and Janishar Ali, all graduates of IIT-BHU. The team envisioned and innovated coding on small displays in order to enable students to study and code on their mobile devices. It is mobile-first, provides lessons in vernacular languages, and enables publishing and sharing of creations by students with their friends, family, and within the larger community.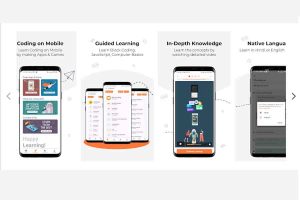 They also have a competition platform developed for students to compete with their fellow coders and be a part of the ecosystem.
They have identified and devised a 3-step learning process in which students learn in bite-size content, code on the code arena and publish their creations on the CuriousJr App Store. Also, students can follow the guided learning curriculum to learn more about coding in a structured way. Students do love the learning process and like to use apps and games with their peers.
Also Read: Riyaz: An app for aspiring singers to practice their music lessons anywhere, anytime
Features and Availability
Among the various aspects that CuriousJr is known for, it provides – learning in vernacular languages; developing problem-solving skills; learning concepts through free animated videos; mastering sequences, loops and functions with coding games; coding and running it on your mobile phones.
Available for free, the app has over one million downloads and a 4.8 star rating on the Google Play store.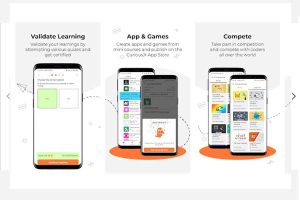 How to use it?
The CuriousJr app is very easy to use and simple to understand. Once you have downloaded the app from the play store, you have to register with a mobile number, after which you are verified and you are in. A thrilling experience is about to begin.
Also Read: HealthPlix SPOT: An app meant to ease doctors' practice and ensure better health outcomes for their patients
You can select a language between English and Hindi to proceed further. Coming to the app, they have courses under the Study category like Block Coding, JavaScript, and Computer Basics. Under each of these subjects, there are sub-topics and concepts. As and when you are learning, the app itself promotes you to the next topic. Once you learn a concept, there is a short quiz to test your knowledge. For each question that you get right, you earn XP points. The app is built in a way that encourages students and cheers for their achievements. They can also share their achievements with friends, family, and the larger community.
They also provide opportunities and options to create apps and games and also participate in coding competitions. You earn badges and certificates at the end of the courses.
Conclusion
With the help of the CuriousJr app, children can learn to code on their mobile phones anytime and anywhere, despite their location, region, and native language. It is accessible, easy to use and understand, and completely free.
Also Read: Practically Review: Learn things in a fun and simple way with this app