As we emerge from a devastating resurgence of the coronavirus, Convergence India expo wishes the industry and all stakeholders good health and wellness.
This past year has taught us that the ability to adapt is crucial for the survival of any business. The hallmark of Convergence India over the past 29 years has been our ability to remain forward looking and stay ahead of the rapidly changing technology landscape. At Convergence India, as we enter the third decade of India's longest running and largest technology expo, we recognise the fact that it's essential to be agile. With that in mind, we've tweaked our logo to be sharper and more forward looking, albeit while retaining its instantly recognisable brand recall.
We would also like to take this opportunity to thank all our supporters, well-wishers and participants at the 28th Convergence India and 6th Smart Cities India Expo, which took place from 24-26 March 2021 at the revamped Pragati Maidan, organised by the India Trade Promotion Organisation (ITPO) and Exhibitions India Group (EIG).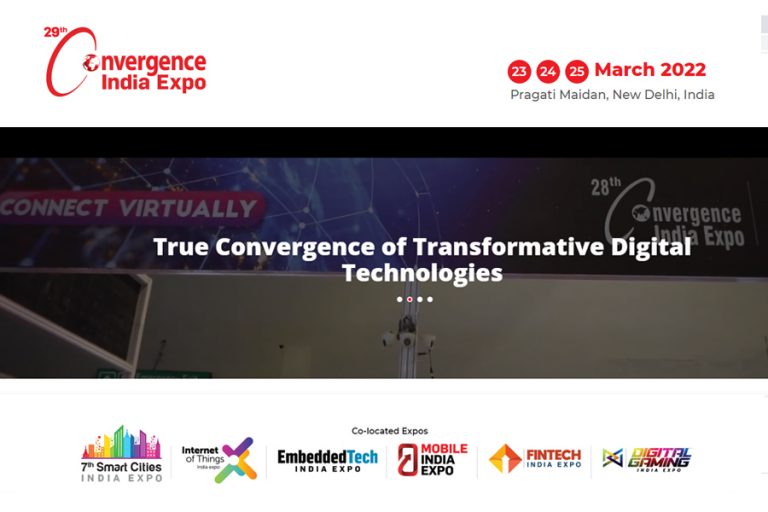 The expo demonstrated the sheer power of in-person networking. We also leveraged technology to ensure the participation of 575 brands from 27 countries and 230 speakers in 45 conference sessions – making it the most meaningful and largest technology and infrastructure expo in the country.
Since 1992, Convergence India has heralded the telecom revolution in India. The shift towards a digital world has led to new use cases around OTT, Satcom, IoT, FinTech, Blockchain, Cybersecurity, AI, Big Data & Analytics, Embedded Technology, Digital Gaming, etc., and Convergence India showcases these emerging technologies. The Smart Cities expo, on the other hand, integrates technology with the key pillars of urban development, i.e., green buildings, energy, transport, clean environment and water, for optimising resources and making cities smart and sustainable.
Nation building and the convergence of technologies go hand-in-hand today, and the expo provides a platform to showcase 'Brand India' and focuses on 'Building a Digital and Smart India.'
As the vaccine drive picks up steam, we wish you a safe year ahead and look forward to welcoming you to the 29th Convergence India and 7th Smart Cities India 2022 expo, to be held from 23-25 March 2022 at Pragati Maidan, New Delhi.