With a compact design, some extraordinary Dolby Atmos sound and an affordable price tag, Bose Smart Soundbar 600 has everything going in its favour to position itself as the perfect choice in the soundbar lineup. The Bose Smart Soundbar 600 price in India currently starts at Rs 39,999, which makes it one of the most affordable products in the market segment. Read on for a more detailed Bose Smart Soundbar 600 review while we try to dissect what really makes this the best choice and what are its shortcomings if there are any. But before the in-depth review, let's take a glance at some of the immediately noticeable pros and cons.
Pros
It has a compact and attractive design
The Dolby Atmos along with two upward-firing speakers delivered great sound quality
It provides extensive streaming options
It is easy to use and has a perfect app-based setup
This soundbar supports voice assistant access (Google and Alexa)
It comes with TrueSpace upscales 5.1-channel and stereo content
It is easily expandable via additional speakers
Cons
It comes with a single HDMI port, which could be an issue for some
The limited bass in sound might not be appreciated by many users
The design has a very basic front-panel display
It does not have DTS:X support
The quality of sound is highly dependent on the listening position of the user, which can hamper the listening experience in some cases
Wallmount brackets need to be purchased separately
Bose, a well-known American audio equipment manufacturing company, has designed and developed this single-unit setup soundbar clearly to take on some of the competing products in the soundbar lineup. The aggressive pricing, unexpected premium features and perfectly alluring device design tell the story of manufacturers' will to disrupt the market a bit.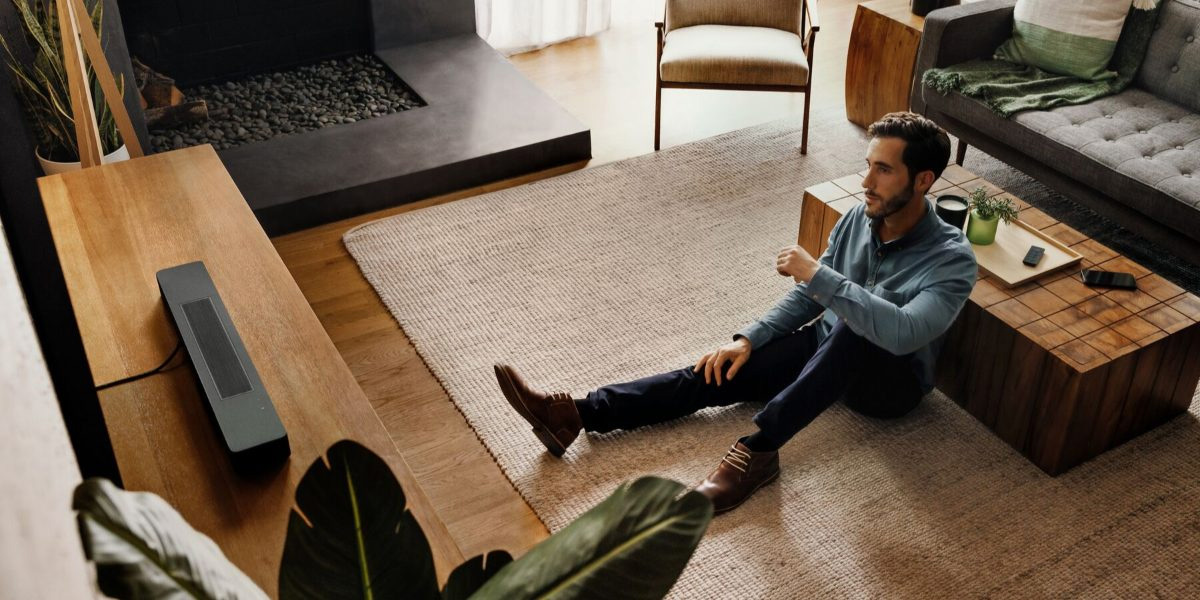 Soundbar 600 has two upward-firing speakers and these are exactly what distinguishes this product from all its contemporaries competing at the same price point. The design of these soundbars targets the sound to bounce down from the ceiling before reaching back to you. This makes the sound truly feel as if it is coming from overhead. This is where Dolby Atmos works convincingly. Other products that are priced more aggressively than this usually compromise on the technical front and rely completely on virtualisation in order to simulate height factors.
The soundbar also has two side-firing apart from the upward-firing speakers, racetrack-shaped transducers, and also a centre speaker. It further has a five-transducer system (3.0.2 channels). For connectivity purposes, Bose Smart Soundbar 600 further comes with a TV via HDMI eARC or optical input. It also has a USB port, wired subwoofer output and also an optional wired IR blaster connection.
Those who wish to expand this soundbar can do so by pairing it with any other speakers such as Bose Surround Speakers, the Bose Bass Module 500, Bose Surround Speakers 700, or the Bose Bass Module 700 subwoofers. In case users do not have the money or space to purchase new speakers to explore the expandability feature, they can simply use the Bose Music app on their Android or iOS devices. Through the Bose SimpleSync feature in the Bose Music app, you can easily connect the Bose Smart Soundbar 600 with your own wireless headphones and speakers.
Recommended Reads: