With our top recommendations for iPad accessories for students, you can start or end the current academic year with the highest possible chance of success.
On college campuses, iPads are commonplace, and many students opt to use them every day rather than PCs.
The iPad can help you organize your study space, make group work go more smoothly, and provide you a terrific opportunity to unwind during downtime by adding a few crucial accessories.
Apple Magic Keyboard
Although you may type directly on the iPad's screen, there is much to be said for the convenience and usefulness of a real keyboard. We chose Apple's own Magic Keyboard for this reason.
It's easy to type on, has a USB-C connector for charging your iPad, and has the greatest built-in trackpad in the game.
The Magic Keyboard is available for $299 for the 11-inch iPad Pro and iPad Air, or $349 for the 12.9-inch iPad Pro.
If you don't have an iPad Pro or an iPad Air, we recommend the Brydge 10.2 MAX+, which fits the 10.2-inch iPad (7th, 8th, and 9th Generations), or the Brydge 7.9, which fits the iPad mini 4 and iPad mini 5.
Apple Pencil
For students, the Apple Pencil is a must-have accessory. It makes it easy to write down notes fast. It's also useful for project planning, marking up first versions of documents, and working with a variety of art and design programs.
Of course, the Apple Pencil you receive is dependent on the iPad you own. The second-generation Apple Pencil ($129) works with iPad models that support USB-C charging.
The first-generation Apple Pencil ($99) is available for various iPad models with a Lightning connection. That is solely the 10.2-inch iPad from Apple's current lineup.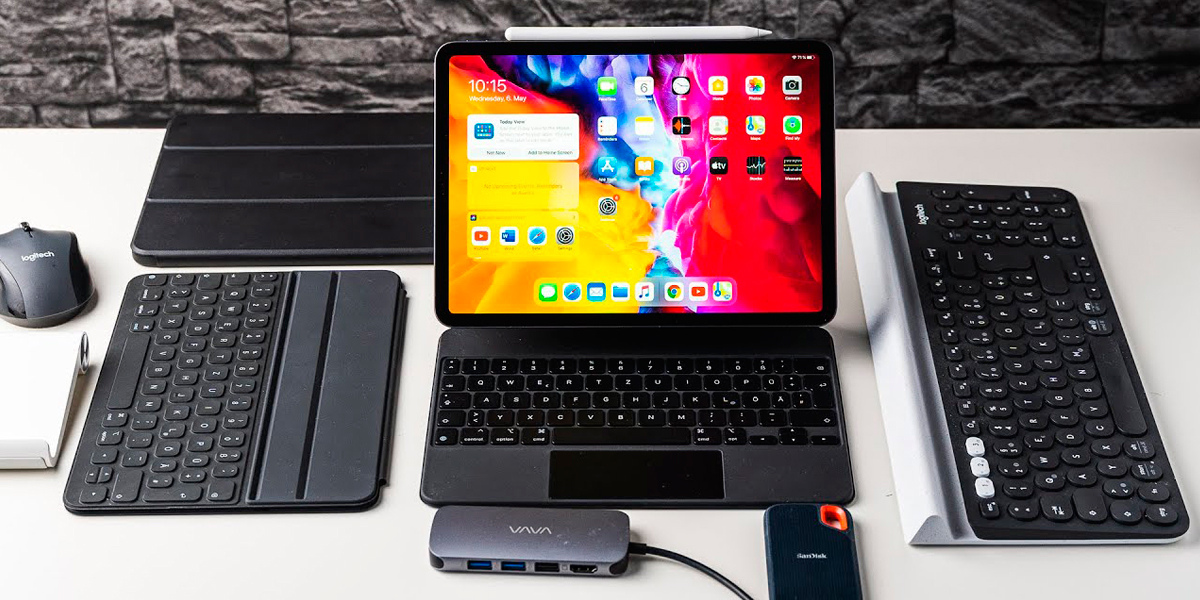 A suitable bag or backpack
It should also be easy to transport your iPad. After all, if you're going to be on campus for any length of time, you'll want to make sure you have your charger and charging connections with you. A good bag should also feature a spot for your keys, pens and pencils, and anything else you might need for the day.
Another question is whether you need a full-size backpack. If you'll be carrying a lot of books from class to class, we recommend investing in a heavy-duty bag with a padded section for your iPad.
Of course, if the majority of your books are digital, there's no reason you can't also downsize. A smaller bag, such as SoloNY's Ludlow Universal Tablet Sling ($19.99 in certain colors), may comfortably handle a 12.9-inch iPad Pro, a notebook, pens and pencils, keys, sunglasses, and your phone.
Portable SSD
Even a small amount of additional storage can go a long way, especially if you're recording and editing video, keeping photos, or backing up key work.
We recommend the CalDigit Tuff Nano Plus for students because of its tiny size, which allows it to fit in your backpack or back pocket, and its silicone bumper, which distinguishes it from others you may purchase in the future.
These guys have an IPX8 water-resistant USB-C port that is dust-protected by a silicone dust cover. It has a maximum transfer speed of 1088 megabytes per second. The CalDigit Tuff Nano Plus has a storage capacity of 2TB.
AirPods with Charging Case from Apple
It's no coincidence that the AirPods with Charging Case is the default pair of wireless earphones for any Apple iPhone. These are the most affordable AirPods in Apple's collection, and while they miss key niche features like Active Noise Cancellation and wireless charging, they get the basics right.
For starters, thanks to Apple's H1 chipset, AirPods provide the finest Bluetooth experience of any pair of wireless headphones. You can effortlessly connect to your iPad and switch to another device thanks to the seamless communication.
As a student, these earbuds will provide adequate sound quality for regular music listening, but more importantly, they will last the entire day.
The one big complaint you might have about AirPods is their design; for some people, they don't provide a secure fit, which can be a serious issue for those who plan on using them for a long period of time.
Also Read: Which iPad is best to buy for students & How to choose the best?