Global PC brand Acer has launched its green and sustainable PC Aspire Vero in India, which comes equipped with an 11th Gen Intel Core processor. It features a 30% PCR plastic chassis cutting carbon-dioxide emissions by 21% to produce that part. The Aspire Vero is a green-pioneer laptop with a thoughtful sustainable design solution that solves electronic industry problems, such as heavy energy consumption of virgin plastic, or non-upgradeability. The keyboard design is intended to emphasize eco ideals with the R and E keys standing out in yellow based on the concepts (Reduce, Reuse and Recycle).
The laptop is also powered with Intel Iris Xe Graphics for users seeking top-notch performance and productivity. The new inbuilt software, VeroSense, gives users the option of selecting a usage mode that has been optimized for energy efficiency and battery life when working on less demanding tasks.
Sudhir Goel, Chief Business Officer, Acer India, said, "More than just a stylish computer the Aspire Vero is a tangible manifestation of Acer's commitment to more sustainable operations. This is a deliberate initiative that has been designed and conceptualized to bring about a change for our future. Vero will reduce plastic waste and thereby CO2 emissions. We, at Acer, are proud of this initiative and look forward to manufacturing products that promote sustainability and preserve our planet."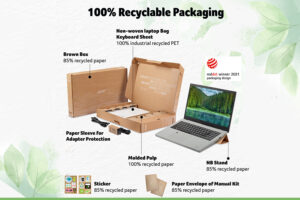 With EPEAT Silver registration, the environmentally friendly Aspire Vero is made from recycled materials for less environmental harm and more earthy goodness. It uses 30% PCR plastic on the chassis and screen bezel and 50% on keycaps to become a pioneer of full PCR integration into a laptop device.
The carefully crafted laptop is designed to adapt to the planet's needs, easy to upgrade to reduce needless waste. The signature keys 'R' and 'E' echoes Reduce, Reuse, and Recycle.
Also Read: ISRO, Oppo India collaborate to provide NavIC application, paving way for Atmanirbhar Bharat
The exclusive inbuilt app VeroSense takes control of the energy effectiveness and lowers the carbon count (and electric bill). It helps the goals of eco-minded users, such as energy-saving to extend battery life. The application provides users with four performance modes to choose from: Performance, Balanced, Eco, and Eco+. VeroSense is not only eco-friendly, but it is user-friendly too, with easy-to-use UI and helpful information to show we are doing our bit for planet Earth.
Powered by 11th Gen Intel Core processors and Intel IrisX graphics for the world's best performance in productivity and collaboration. Keep up to date with Windows 11 and stay connected with the ultra-reliable Wi-Fi 6, a Type-C, and two Type-A ports, with one supporting power-off charging.
With work from home becoming increasingly commonplace, the quality of a conference call is just as relevant. The new generation of Acer PurifiedVoice with AI noise reduction actively suppresses background noise for both users and is compatible with external headphones and mics. The 15.6-inch FHD IPS display is a narrow bezel design with a screen-to-body ratio of 81.42%.
Acer has special exchange offers where any laptop exchanged for Aspire Vero will get additional Rs 2,000. The Acer Aspire Vero will be available on Acer online store, Acer exclusive stores and other authorized retail stores starting from Rs 79,999.