Crossloop, a tech and lifestyle brand, visions to enhance customer experiences within the consumer electronics industry by offering a blend between design, utility, performance, and functionality at an affordable price. The hardware startup also aims to expand and go beyond the boundaries of India by reaching out to European markets. Sameer Katole, CEO, Crossloop, tells My Mobile of his aspirations, expansion, competition, and much more. Edited Excerpts:
What is Crossloop and how long have you been in business?
Crossloop is a tech and lifestyle brand, primarily focusing on fast-moving electronics, accessories, and gadgets. Backed by Sanjay Hira of Hira Group, a UK-based consumer electronics focused MNC in existence since 1959, Crossloop was launched in the year 2019 with a vision to enhance the customer experience within the consumer electronics industry.
Crossloop offers customers a perfect blend between design, utility, performance, and functionality. Currently, Crossloop's well-designed and curated product offerings include Pro Series Earphones, Crossloop GEN, Speakers, Daily Fashion Earphone Series, and Crossloop Charging Cables. We are one of the few hardware startups in India and are solely focused on curating lifestyles that fit into today's modern tech ecosystem with solutions and interventions that cater to the dynamic lifestyles we enjoy.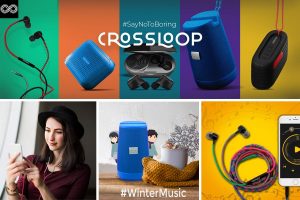 How did this idea come and why have you restricted yourself to accessories only?
With the increased usage of gadgets and technology, every consumer wants an accessory which not only caters to their tech needs but also compliments their style statement. Crossloop was introduced understanding the gap in consumer electronics industry, with a thought to provide high-quality products at an affordable price for consumers across multiple tiers. Based on customer interest, we are currently expanding ourselves into many other categories namely, wearable accessories, home automation, health care, office equipment, gaming and other gadgets.
What percentage of the Indian population is your fan and where do you aspire at the end of 2021?
Looking at the engagement in the consumer tech market, the brand attracts millennials and Gen Z and has a wide range of adoption considering the need for tech accessories in the market. The global pandemic has increased the penetration of wearable accessories in the market-leading to explosive growth in 2020. In 2021, we foresee ourselves as a leader in India's wearable technology segment.
What are your product portfolio and the price bracket in which Crossloop plays?
Crossloop has kept the price of tech accessories in the affordable segment, available at a price range of Rs 300 to Rs 3,000. The products are focused on ensuring a smooth and unique experience to consumers. The product portfolio includes:
Pro Series Earphones: A range of colourfully wool braided earphones, sporting a 10mm driver for HD sound, the Pro Series Earphones appeal to the new aesthetics of customers. This series offers a two in one proposition of design and performance.
Crossloop GEN: A two in one combo of a TWS + speaker, Crossloop GEN comes with a High-Fidelity 3W speaker built in the charging case. It features instant connectivity with Bluetooth v5.0 that lets one enjoy their music with an outstanding long range of up to 10m. With 20+ hours of playtime (Speaker + Buds), the GEN comes with Smart touch controls which allows one to manage their calls and music efficiently, right through earbuds, and also allows access to voice assistant with 3 soft taps on the earbuds. The available variants include Black & Pine, Black & Teak, Black Leather, and Blue Leather case designs
Speakers: From outdoor speakers to speakers that would bring life to a house party, Crossloop Bluetooth speakers include the ultra-stylish Volar, ultra-premium Drom, and pocket party Akorn that come packed with a long-lasting battery.
Daily Fashion Earphone Series: With an inbuilt noise isolation mic for HD sound even on phone calls, the Crossloop Daily Fashion Series of earphones brings the perfect mixture of amazing sound and accessibility. They sport a 10mm Driver for HD sound along with bass metal for an enhanced sound experience.
Crossloop Charging Cables: Stylish Designer Cables with Quadbraid Technology for 100% Tangle free experience.
Which is the medium of sale that suits Crossloop and its target audiences?
As per the trend, we have observed the brand Crossloop is most appealing to the millennials and Gen Z audience, but significantly we also see traction and interest amongst Gen X and Babyboomers. Making the brand available for the target audience, we at Crossloop have always prioritised both e-commerce platforms and retail chains. Since the online purchase is a preferred medium of sale for our audience, we aim to make our product easily accessible for all our consumers.
Accessories have rare after-sales service available, are you different?
As a business or company that is customer-facing in the industry, one should highly prioritize after-sale customer service. It's highly beneficial and creates a name for the business within a dense market. Customer experience is the core value of Crossloop and we have always emphasized buyers' journey once they become a Crosslooper.  We have a dedicated team to offer complete support to our family of Crossloopers, should they need it.
Tell us about the competition in this domain because there are specific accessories players as well as mobile makers too?
We are focused on meeting our customers at a convergence of technology and style. Our products are unique and different and we aim to give our customers a personalised product which is in line with the current trend. With an exclusive product portfolio, we are working towards making the latest technology accessible at an affordable cost.
If you plan to go overseas, where and when it would be?
By the end of the year, we are expecting to launch ourselves in European markets. Given our investors' stronghold in European markets, there is a huge demand for some of our products launched in India. With the evolving consumer behaviour, there is a wide reach of our product, thus we aim to ensure that every consumer in India owns an accessory that compliments their style. We look forward to addressing the needs of our extended consumer base in the overseas market.
Seems that Crossloop does not need a face to promote itself?
Our primary focus of communication has been our uniqueness, design, quality, and holistic experience.  We look to align with the right partners and industry players who support our positioning and values. The great customer experience also serves as a promotion for us, therefore, we aim to make it enjoyable for them.
Is TWS is the future?
TWS is the present! We see a mass acceptance of this technology as prices become even more mainstream and advancements can be seen in the sound quality, depth, battery, and seamless connectivity. Consumers have now adopted working and learning from home and require devices that help them in functioning on the go. The year 2020 has created a wider need for TWS at an affordable price to cater to the needs of our consumer base. Currently, we have Crossloop Gen which comes with a high-fidelity 3W speaker with a built-in charging case and also features instant connectivity with Bluetooth v5.0 in premium wood and leather finish. We can see more innovations and devices with advanced features in 2021 as the segment holds a lot of opportunities. We are dedicated to addressing the needs of our consumers with our exciting portfolio in the segment.