Titan is one of the premium watch brands winning million of hearts for so long now. It has some amazing collections of analogue and digital watches, that I don't have to boast about. With elegant designs and flawless features, Titan is among the promising brands you would like to reach out to again. Now, the brand is also making waves in the smartwatch industry, which is one of India's fastest-growing segments as well. The Titan Smart Pro is the company's most recent product.
The Titan Smart Pro was originally priced at Rs 14,995, but it is currently available at Rs 11,995. The smartwatch has an AMOLED display, GPS, and SpO2 tracking, as well as long battery life. However, with so much competition in the smartwatch market, is the Titan Smart Pro worth the money? What are some other features that the smartwatch is packed with? What makes the smart a 'Pro' in the list? Let's find out.
What's Inside the Box?
You get the capsule and the straps resting in the box separately. This also makes it a customizable watch. Furthermore, it comes with its own magnetic charging pad, which is a great thing. It also contains a warranty card and other documentation as well. The Smart Pro box also contains the QR codes to assist you in downloading the supporting Titan Smartwatch App and details about the product.
Design and Build
The Titan Smart Pro comes with an aluminium casing with a popular circular dial. Despite its aluminium construction, the watch doesn't feel heavy and feels very pleasant and premium to wear on the wrist. It is one of the super light-weighted and compact smartwatches I've ever tried! Generally, smartwatches are a lot bigger and heavier, however, if you like your smartwatch to be a bit compact and convenient then you'll love this one. The straps are also very good quality and feel comfortable on the wrist. Also, the royal Blue colour look so gorgeous on the wrist as well.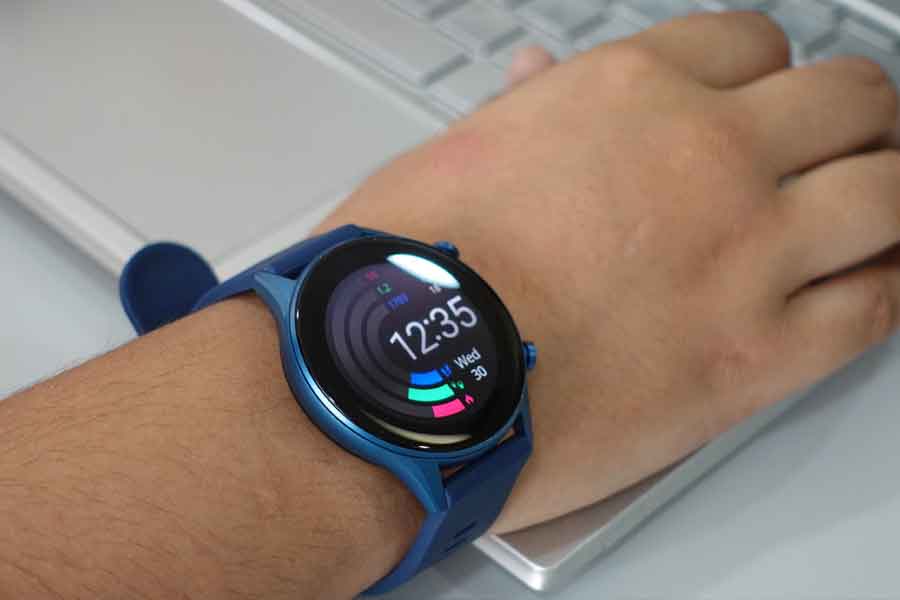 Also, it consists of a 42.75mm case, which is an ideal fit for all wrist sizes. Smart Pro features two buttons on the side with massive bezels. You have to press the lower one for about 3-4 seconds and the screen will appear. The watch is may be smaller than the other ones, but it does offer customization to the users. It features the basic 22mm replaceable silicone straps, which you can replace with your favourite and personalized ones. The watch is also water-resistant to 5ATM, so you may wear it to your swimming classes without being worried!
Display
The Titan Smart Pro has a 1.19-inch AMOLED touch display with an amazing 390 x 390-pixel resolution. It is bright enough for you to see what's happening on the screen pretty well. The display's touch responsiveness is also very smooth, and I didn't notice any latency while browsing through the watch's functions. The front of the screen is in the protection by 2.5D curved glass and Gorilla Glass 3, so you can wear it anywhere without worrying too much.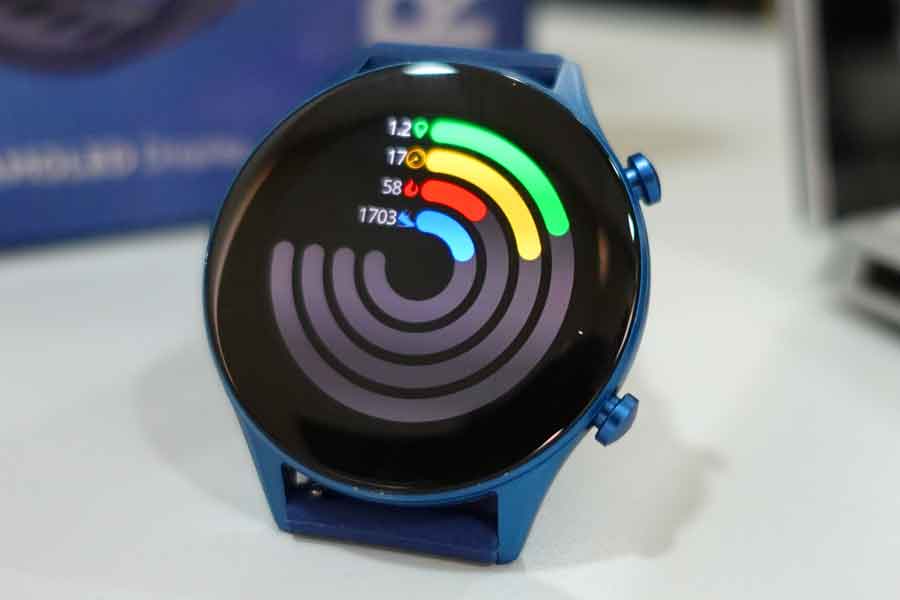 Coming to the screen customization, it impressed me really well. It comes with over 100 watch faces to choose from to match your personal taste. You can switch to any of the faces or can keep the ones, already in-built into it.
Furthermore, Titan Smart Pro's AMOLED display is clearly one of the device's strengths, and it is easily visible in direct sunlight. You may manually change the watch's brightness, and you can set it to life-to-wake or utilize the Always-on display option to keep the screen on all the time.
Features
Now, the Smart Pro is actually a "Pro" variant when it comes to features. It offers everything more on the plate. It has more sensors and health features. Like the watch includes a body temperature feature. How interesting is it! You can actually keep a track of your body temperature throughout the day wearing this on your wrist. It has an in-built Barometer as well, so you can check the height and altitudes while hiking. Also, for the trekking enthusiasts, it entails a compass as well. These are some unique features you can't easily find on budget smartwatches. So, when it comes to features it is loaded with many!  However, the list doesn't end here.
It also features SpO2 monitoring and heart rate monitoring so you easily monitor all the saturations, accurately. And, one of the most important features of this smartwatch- has an In-built GPS and it works accurately as well. Yes, you heard it right! So, a big thumbs up for that as many other brands don't offer it. With that, Titan Smart Pro also offers many sports tracking like Hiking, indoor and outdoor cycling, rowing machines, trail running, exercise, and more. It has a total of 14 sports mentioned on the screen.
Furthermore, Smart Pro offers Sleep tracking and stress to its user. Again, the watch's sleep monitoring was fairly accurate, with separate monitoring for deep and light sleep separately. The Titan Smart Pro also contains a stress monitoring feature that calculates an average score based on how much stress you have over time. Stress monitoring is a useful tool, at least for me!
Another interesting feature I noticed on the smartwatch is that one can also set reminders for breathing and hand washing using the smartwatch. So, with stress monitoring, you also have the solution as well. Other features include weather monitoring and you can also manage the camera on your smartphone. You can also control the music playback on your phone, using the smartwatch.
The watch is pretty good to establish daily fitness goals and reviewing your activity history on a regular basis. The Titan Smart Pro boasts a lot of useful smartwatch functions, but the lack of calling capabilities was a significant letdown. The Smart Pro does get call alerts, which you may refuse or quiet directly from the watch. Clearly, The Titan Smart Pro did not disappoint in terms of features.
Battery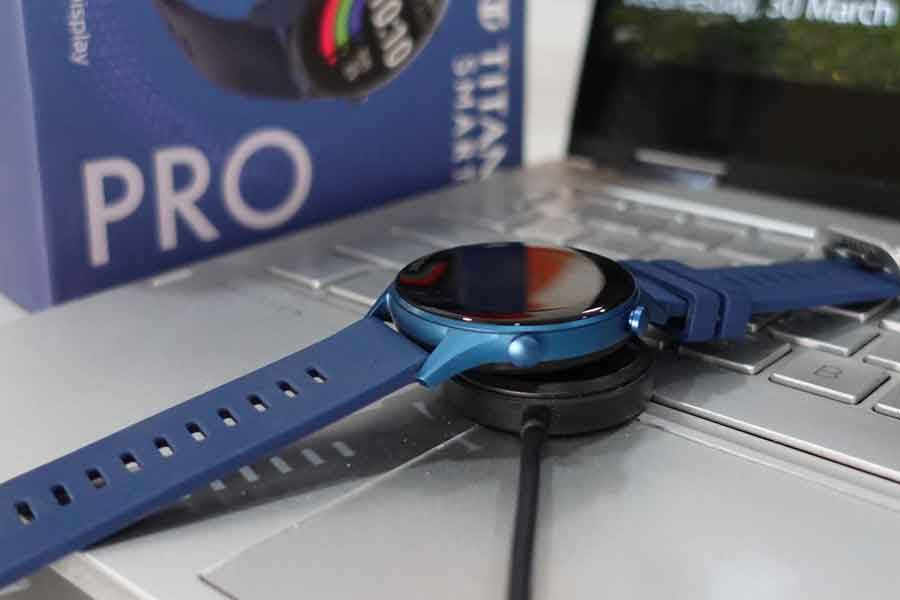 The Titan Smart Pro says that it has a battery life of up to 14 days on a single charge. Really superb! Generally, even if you invest in good smartwatches, they only last you up to 4-5 days, in terms of battery. However, this one goes beyond expectations. It flaunts a 260mAh battery, which is quite long-lasting considering this is a smartwatch. With normal usage and on a single charge, I was able to get closer to 12 days of battery life, which is amazing in and of itself. Turning on the Always-on display and boosting the brightness to the maximum, on the other hand, will deplete the battery far more quickly. However, you do get a magnetic charging pad that charges the smartwatch really fast.
Software
The Titan Smart Pro also comes with its companion app- Smart Pro App. The software can track your physical activities and measure your heart rate and oxygen saturation levels, among other things. You only have to connect the smartwatch to your phone's Bluetooth and use it conveniently. The software also allows you to track your temperature, sleep, and stress levels. The Settings tab of the app allows you access to the watch's various capabilities, such as alerts, daily objectives, hand washing reminders, and more.
Also, the app is highly compatible with both Android and iOS systems. Though I have an iPhone SE, still it got connected very quick and was very easy to control as well.
Controls
Two buttons are located on the side of the Titan Smart Pro. The top button gives you access to the watch's functionalities, while the bottom button allows you to choose from 14 different activities. The fast settings menu is accessed by swiping up from the top of the watch, while alerts are accessed by swiping down from the bottom. Some watch capabilities, like music playback, can also be accessed by swapping left or right.
Verdict
The Titan Smart Pro is a great fitness watch with a lot of features that can compete with smartwatches from Xiaomi, Realme, OnePlus, Amazfit, and a lot of other brands. Temperature monitoring, a barometer, and period tracking are among the Smart Pro's distinctive features. These are also some unique features making it a Pro for real. The watch also has precise GPS tracking, a vivid and bright AMOLED display, a sturdy build, and long battery life. The only thing I missed on this stunner is the answering system for the calls.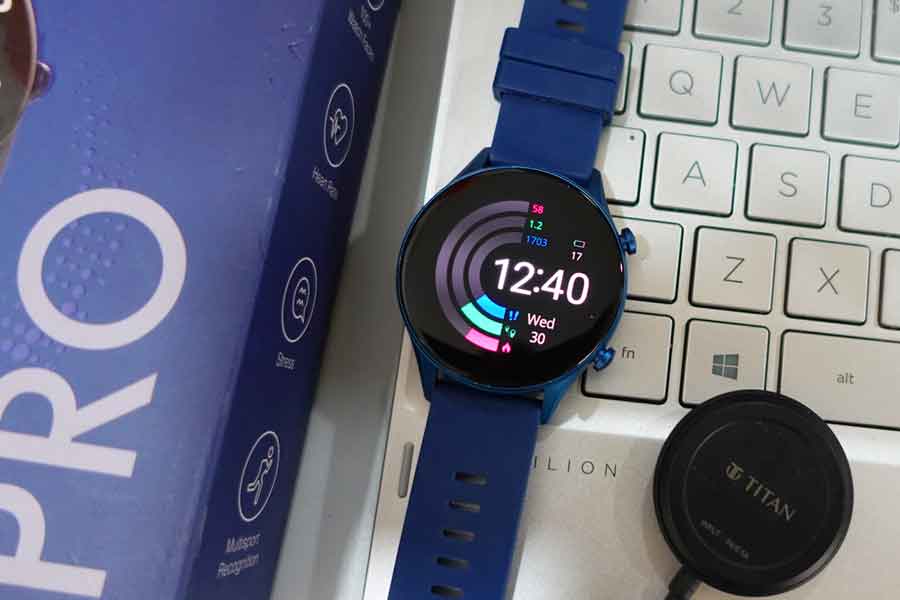 Although this is a personal taste, however, I really enjoyed the compact size of the watch. A stainless-steel casing would have also given it a more quality feel, but that is unusual at this price. Also, the glass you get on this one does feel premium and great. The Titan Smart Pro excels in many areas, and while it lacks a few functionalities, it makes up for it with a slew of other features. Titan Smart Pro is a solid smartwatch from a seasoned Indian manufacturer that deserves a recommendation due to its diverse set of functions.