One of the leading smartphone brands, OPPO, has been a prominent name in bringing newer and advanced technologies through their smartphones, IoT, wearables, and hearables devices. This would not have been possible without the constant focus on R&D which OPPO does quite relentlessly not only for the world but, for India too. Tasleem Arif, Vice President & Head, R&D OPPO India, who is religiously involved in creating new and mindful technologies for the next billion shared his deep thoughts and plans with Haider Ali Khan as we move in the New Year 2021.
Where's mobile design heading in 2021?
Consumers today are increasingly relied on their smartphones to interact with the world around them.  To support more functionality, a smartphone is designed in a constant increase in size, making it difficult to hold and less convenient. This trend towards larger phones has become a growing concern for users. Armed with this insight, we have designed and introduced the concept technology of 'slide-phone' and our OPPOX2021 Rollable handset. Both these concepts provide users the flexibility to change the form of the phone as needed. Both these concepts represent the latest breakthrough in OPPO's constant quest to create new mobile phone forms and show our prediction of the likely future trend for mobile design technologies.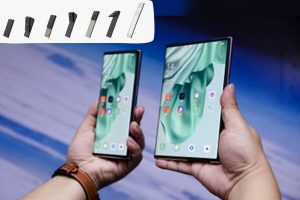 We have been hearing about rollable, curved, and foldable technologies for two years but, these were not near to practicality. Do you see that changing in 2021 and what would be OPPO's role in that?
We have already made significant progress in this technology. Our latest OPPOX2021 rollable handset concept showcased during the second edition of Inno Day gave a glimpse of how our innovations in 2021 will further simplify the life of consumers and their interaction with the world. All these technologies offer a new perspective on the future of devices and how humans might interact with them.
Do you see these technological achievements becoming a mass thing in 2021 because they won't be of any use if limited to just a few?
We have received a positive response both from the customers and industry stalwarts about the new concept phones. There has been a constant rise in excitement and awareness level for the rollable and slide-phone technologies across the world.
IoT, wearables, hearables and Smart TV dominated most of R&D in 2020 whereas the smartphone took a backseat. Has the saturation come for smartphone designing?
As a world-leading technology brand, we aim to build a 360-degree ecosystem for the smart device domain for our consumers and we continue with our exploration for unique technologies in the smartphone segment. Our technology development strategy 3+N+X that we announced recently is a clear indication of our vision of 'tech for people' and our brand philosophy of building great products for our users.  We will continue to focus on product design, further exploring how technology and aesthetics can be integrated to create closer relationships between people, devices, and the world around them. Our product innovations, whether in smartphones or IoT products, will continue to be inspired by the importance of human values and centered upon insights of users' actual needs.
Where do you plan to move in hearables and wearables in 2021?
IoT will continue to be a key focus area for us. We understand the needs of our consumers which is why OPPO is further accelerating into the era of the Internet of Things by actively expanding a richer IoT product portfolio. We have already launched OPPO's smartwatch, powerbanks, and earphones for the Indian market and our TV in the China market. In the coming months, we are working towards launching more products with cutting-edge technology and aesthetically appealing designs to help consumers attain intelligent and enjoyable lives. As a world-leading technology brand, we aim to build a 360-degree ecosystem for various IoT enabled products for our consumers.
The slide phone is another aspect that OPPO is trying to make practical. Do you believe that there's still a craving left for such phones?
Basis of our constant research to understand the need of consumers, we are extremely optimistic about slide-phone technology as the upcoming trend. Our recent partnership with Japanese design studio Nendo is aimed at exploring the possibilities of future design in the smart device domain. The 'slide-phone' concept phone showcased by us recently has three foldable screens that let users use the phone in multiple forms, depending on what they want to do.
Can you share some use cases for Rollable Screen and AR Glass?
Both of these innovative technologies will be the trends of tomorrow. At OPPO, the pursuit of a new form is an intrinsic goal. Owing to this culture, we have always been at the top of the innovation games. The rollable screen is an amazing concept also because it gives the user the freedom to choose what screen size they want, and are not dependent only on 1 or 2 sizes. This means users need only tap a video and the phone to automatically adjust the screen size to suit the aspect ratio, providing a full-screen viewing experience at all times. Alternatively, when reading an e-book or editing a document, the larger size provides a more pleasant reading experience. Meanwhile, message pop-ups that appear while playing a game can also present the full message without interrupting the game screen.
The second technology is the AR glass, which will again revolutionise the user experience. It exposes us to possibilities like AR streaming, where an AR app allows users to watch online and local HD videos and enjoy a home theatre-like IMAX viewing experience whenever and wherever they want. Then through AR gaming multiplayer games like the Multiplayer Online Battle Arena (MOBA) and tower defense games, will offer players and their friends more diverse control and a more immersive experience. Games that used to be displayed via a screen will be superimposed on the real world, creating new possibilities for players and the industry.
There are infinite possibilities that these technologies offer us, and as and when we see more and more development in these technologies, the possibilities will only increase.
How do these technologies differ from the respective competition in the market?
At OPPO, we perceive technology as a means to make people's lives better and continue elevating our innovation and research. With our brand vision 'Technology for Mankind and Kindness for the world', our entire approach is towards making the life of our users better every day. The concept technologies that we have demonstrated recently showcase the latest achievement from OPPO's constant exploration and our advanced research efforts and technical expertise. Through technology, we at OPPO are embracing a connected future in which smartphones are set to serve as the most important access point, becoming a hub of an ecosystem that connects an increasing number of smart devices.