At a time when 'maintaining your fitness' is the talk of the town as people now understand the importance of being healthy, Inbase is aiding this revolution with its strong portfolio of smartwatches, matching today's fast-paced lifestyle. Although it's into so many things in the digital accessories segment, Inbase particularly excels in the 'smart wearables' category, offering high-end features at an affordable price. The company's recent launch, Urban LYF, priced at Rs 4,999, comes equipped with a host of health-tracking features, and a very unique 'Bluetooth Calling' facility, which is rare at this price point. Let's get into the detail of this smartwatch to find out how worthy it is for you.
Design and Build
The Inbase Urban LYF smartwatch comes in three attractive colour combinations and easy swappable straps, and the one that I had for review is Jet Black case with Midnight Black band, which looks quite elegant on your wrist. It houses a big full touch HD display of 1.75 inches with a 240×240 screen resolution, giving a crystal clear and colourful display output. There's a single-touch sensor through which every information about your daily health and fitness activities can be tracked and accessed through the device or the app (FunDo). The smartwatch offers a minimal bezel-less design with the polished, almost curved glass on display.
In terms of build quality, it feels solid yet lightweight in hand. The watch's interchangeable silicone straps make it easy to personalise. The company has made it with quality materials, with the Urban LYF branding on the shiny metal buckle. Thanks to IP67 certification, the device is splash-and-waterproof and can be taken with you to any pool party or even light rain. It's resistant to dust and stain, however, we cannot advise you to submerge it for too long, as it could be a risky step.
As it's the case with all smartwatches, the Urban LYF too comes with a proprietary charger. The watch just needs to be docked with the charger to get its fuel.
Overall, the smartwatch gives you a premium feel with a great colour reproduction.
UI and Features
The all-new Urban wearable comes with a collection of inbuilt watch faces which you can customise as per your preference. You can even set images from your gallery as watch faces. There is a button on the right side that is used to power on and off. While on, it takes you to the home screen from wherever you are. The main screen displays the time, steps and heart rate. There is no lag while swiping across screens.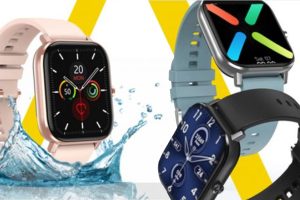 If we delve deeper into the smartwatch, it comes loaded with a number of smart features that are typically available on high-end wearables. The biggest wonder you'll find is the SpO2 monitoring with sensors that can measure the oxygen level in your bloodstream. It helps to detect symptoms and to alert the user in cases of sleep apnea and breathing conditions. It's also helpful in today's time of COVID-19 pandemic where monitoring your oxygen level is essential. Other notable features included in this smartwatch are the Electro Cardiogram monitor and blood pressure monitor, which can help you take ECG readings and measure blood pressure in real-time. The heart rate sensor available in this device can also track your heart rate in real-time with close accurate readings.
Above all, one feature that makes this watch unique is that it comes with Bluetooth Calling, which allows you to make calls without pulling your smartphone out of your pocket. You can also answer calls directly on this device. The smartwatch comes with an ergonomically-designed dial pad, thanks to its large screen, which also hosts functions like an inbuilt calculator and a calendar.
Functionalities and Software
The Inbase Urban LYF is compatible with Android and iOS devices, and easily gets connected to your smartphone via Bluetooth 4.0. It vibrates to alert you of SMS, social media and other smartphone notifications. The trembling is worthily sound and you'll not miss even a single message or call. It offers a decent range and you have a sufficient freedom to move around without your phone.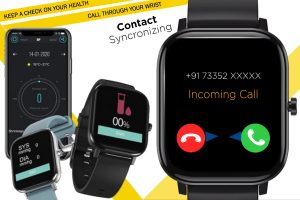 As soon as you sync it to your handset, the smartwatch gets access to your phone contacts, which is helpful in Bluetooth calling, as mentioned above. The watch also lets you to control the music on your phone and proves helpful when using it to click pictures. It also comes with the phone-tracking feature that is quite helpful in a situation when you have misplaced your handset.
Battery Life
The smartwatch offers a robust battery life of 7 days without calling, or say in the case of average use; whereas 2 days with the calling feature, or say in the case of continuous use. It comes with a standby time of overall 15 days, which is not bad.
Conclusion
The Inbase Urban LYF offers a great display, a sturdy and durable design, utmost comfort on the wrist, and accurate health-tracking statistics and SpO2 measurement. It looks quite decent and is elegant. Battery life is not bad. Bluetooth calling feature makes this device even more special. You can't think of a better smartwatch than this at the given price.