There is no doubt that when it comes to gaming phones ASUS is an ultimate title-holder, and its recent launch ASUS Rog Phone 5 is undoubtedly a beast. It packs all the latest and greatest features and hardware. The ASUS Rog Series has been a gaming-centric smartphone series, but there are some features that are not a complete nightmare to use outside the gaming area.
The Rog 5 comes with stable everyday use features with some killer specifications that can make this smartphone adjusted like a gaming PC. This is definitely a smartphone for gamers, but it also lacks some famous features along with some rough edges.
It might be the perfect phone for some but it is indeed a tough sell with the asking price of Rs 50,000.
To give you a comprehensive idea about how perfect the phone is, we reviewed the ASUS Rog Phone 5. Check out the detailed review of the smartphone here!
Build and Design:
Let us look at the design and the build of the smartphone first. The ASUS Rog Phone 5 is the fourth-generation gaming phone, and if we talk about the looks of the smartphone then not much is changed. No major redesigning has taken place, perhaps the only major change this year is that there are three different ROG phones instead of one.
The phone gives away a typical '80s punk vibe' with some gaming aesthetic looks, especially because of the RGB logo lightning. The design is much less aggressively 'gamer' than the previous ROG Phones — it's just interesting enough to stand out without being too flashy. The geometric cuts on the camera, paired with the dot-matrix at the bottom with the LED ROG logo, all of this adds up to contribute to its stylish standout in a good way.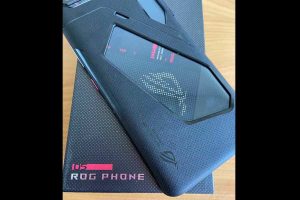 It also attracts fingerprint smudges but is quite easy to clean as well. The volume buttons are a bit too high up the right edge to be comfortable to access, and while the narrow width ensures that gripping the phone is not too clumsy, the height of it simply takes away all the ergonomics. The gentle curve of the back panel also makes the usage very easy, but you also have to get used to the unorthodox charging port placements, you don't mind it after a while.
The ROG 5 is a large phone with a 6.78-inch display. This 1080p OLED display looks sharp enough, and the colors are even at all brightness levels, with a refresh rate of up to 144Hz, and you can lock the device at this rate for smoother animations. A high refresh also makes the phone UI feel much more responsive.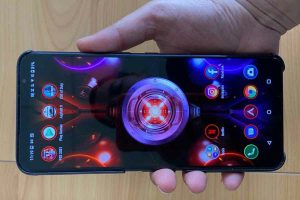 Another good factor about the phone is the speakers, the phone comes with dual front-facing speakers and includes a DAC that supports hi-res audio, and there's some fancy software built-in that can tune the sound of the front-facing speakers to ensure they provide the best output possible. The ROG 5 sounds excellent no matter how you're listening.
Battery:
The Asus Rog Phone 5 comes with a 6,000mAh battery, which is good enough to be reliable at all times. On everyday, average usage, the device actually delivers fairly good battery life. If you're not an extensive user you can stretch it up to two days.
For hardcore gaming, a full 100 percent charge cycle lasted around 7 hours of screen-on gaming time. That is pretty impressive, even though be very careful about soaring processor temperatures that can marginally throttle peak performance. This, however, kicks in after over one hour of an intensive game such as Call of Duty: Mobile, with all graphics, turned to max.
Performance:
Just like previous Asus Rog Phones, this one is also the gaming beast that will give an amazing experience. Asus is again offering two UI choices when setting up your device. There's a classic theme that's akin to stock Android, and then there's the Default theme, which offers a gaming aesthetic.
In terms of usage, it takes a while to get used to the settings and everything but once you get your hands on it is smooth as butter. If you use the phone extensively the device also plugged into an optional cooling fan even with the controller snapped on, which certainly makes it look at work unlike any other phone out there. This, though, is a very niche area of application for the phone, which you will find useful only if you are a professional esports player who can make use of this setup.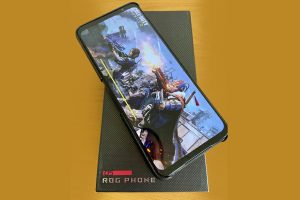 The side-mounted USB-C port further helps its case, and the wide range of LEDs – which you can configure for multiple different flashing and color styles, add to its aesthetic as well. Until such long hours of gameplay is achieved, all of this will remain an aesthetic addition for you and nothing more in terms of the overall performance factor.
The overall performance of the phone is quite impressive and it will not disappoint you in any way.
Camera:
The smartphone comes with a 64-megapixel triple rear camera setup, which is enough for you to take good landscapes in daylight. However, the focus is clearly not on the camera here, which is also pretty much what you'd expect from a phone that caters so specifically to gamers. The 13-megapixel ultra-wide unit adds to the versatility, while the 5-megapixel macro unit feels more of a marketing suggestion than a willful one.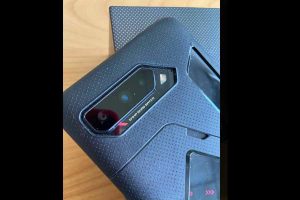 Although this setup does well in terms of detailed photography, the ultra-wide camera also produces acceptable results in terms of details, and the overall color levels are also well balanced and not too saturated or bleak.
Impressively, the Asus ROG Phone 5 does quite well in terms of videography, thanks to its ability to record 4K videos at 60fps. All of this sums up the ROG Phone 5 camera as a more than usable one, but that's what it is – a camera that you won't mind using if you have it, but won't go chasing for the memorable shots that it could take.
Verdict:
The Asus ROG Phone 5 is an undeniably good smartphone. It is perfect for any gamer and fair in terms of everyday usage. The performance is excellent along with a good display, usable camera, and ok battery life. If we talk about the software it has plenty of gaming optimizations to make it good enough for enthusiast gamers.
However, unfortunately, the Asus ROG Phone 5 is not your ideal everyday phone. As a non-gaming user, you won't ever make the most of the features that it offers, and it is simply too big to suit single-handed usage.
But it is totally recommended to all the gamers around. The series starting from Rs 50,000. So choose wisely!