Highlights
OnePlus Buds Pro 2 FCC listing out ahead of launch on February 7th 2023.
The listing reveals a 525mAh Lithium-ion battery in the charging case and a wireless charging feature.
The OnePlus Buds Pro 2 is likely to retain its in-ear-styled earbuds design.
The OnePlus Buds Pro 2 will be launched alongside the OnePlus 11 at the Cloud 11 launch event.
The OnePlus Buds Pro 2 are set for launch on February 7th alongside other anticipated products like the OnePlus 11 5G flagship smartphone and the OnePlus 11R 5G.
Ahead of its launch, the OnePlus buds Pro 2 was seen on FCC listing.
According to the listing, the OnePlus Buds Pro 2 could wear model number E507A and will be manufactured in China.
The listing also reveals the design blueprint for the upcoming new TWS and also reveals the battery capacity of the charging case. which show the OnePlus Buds Pro 2's FCC listing.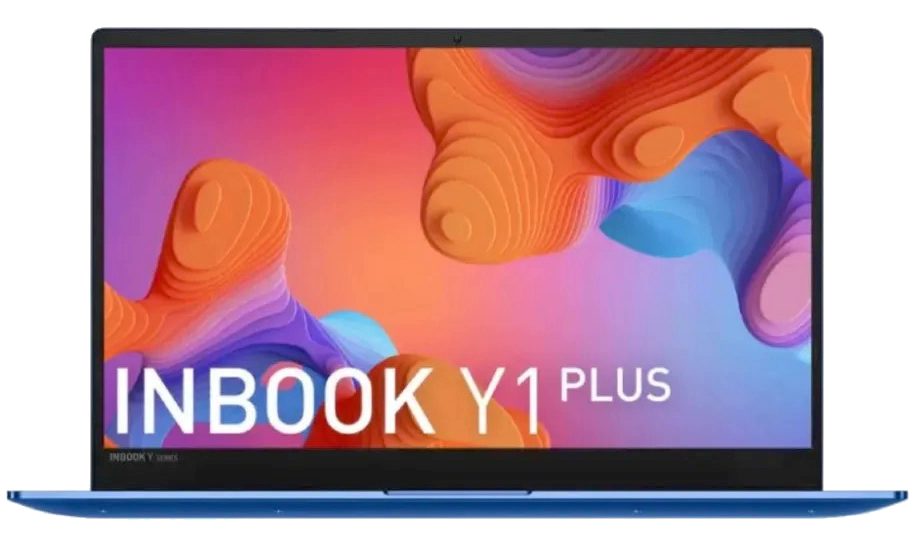 The images reveal technical details on the pair of TWS earbuds from OnePlus and also preview a design blueprint of what the device could look like.
The OnePlus Buds Pro 2 will carry a model number E507A and the packaging stampings reveal that it would be manufactured in China.
The FCC listing suggests the earbuds will host 0.231Wh batteries while the charging case will house a lithium-ion battery pack with a rated capacity of 520mAh battery. The actual battery in the case is slightly larger with a typical capacity 525mAh presumably to counter-battery health degradation for use over a longer period of time.
The document also records that the charging case will support wireless charging.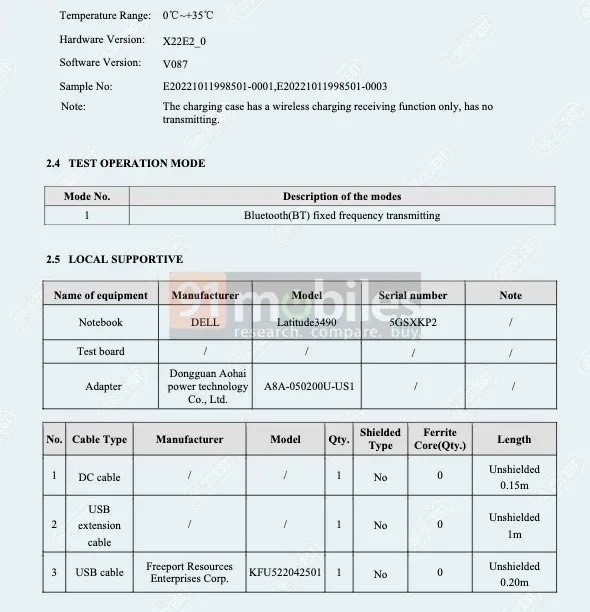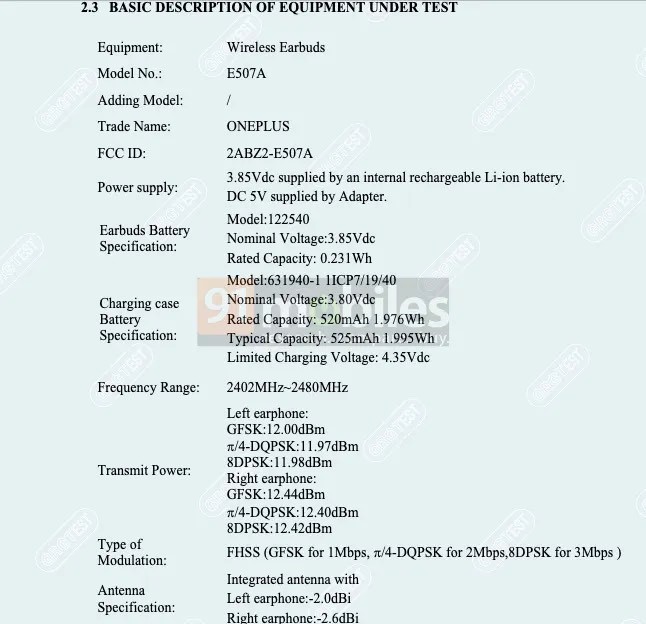 The listings further reveal that the device will operate at a frequency range of 2,402MHz to 2,480 MHz and will be operational at ambient temperatures of 0 degrees Celsius to 35 degrees Celsius.
The design blueprint reveals the charging case's footprint and also shows the in-ear style earbuds.
According to the image, the earbuds will be equipped with multiple directional microphones and proximity sensors.
OnePlus Buds Pro 2 Price (Expected)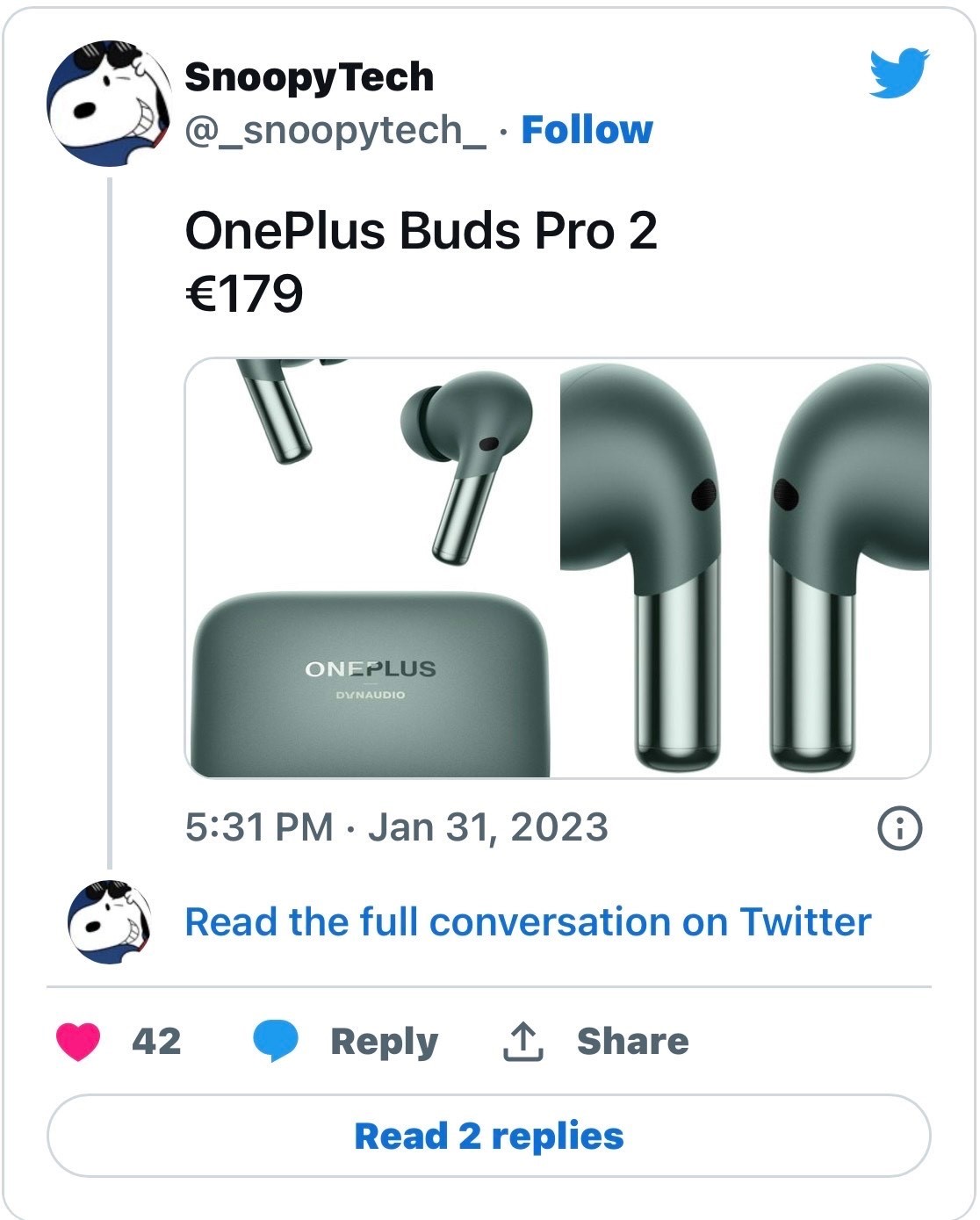 The OnePlus Buds Pro 2 have been tipped to be priced at €179 (approx Rs 16,000) in Europe.
However, rumours suggest that the device could be priced at under Rs 11,000 in India. The colour options on the Buds Pro 2 were earlier leaked.
OnePlus Buds Pro 2 Specs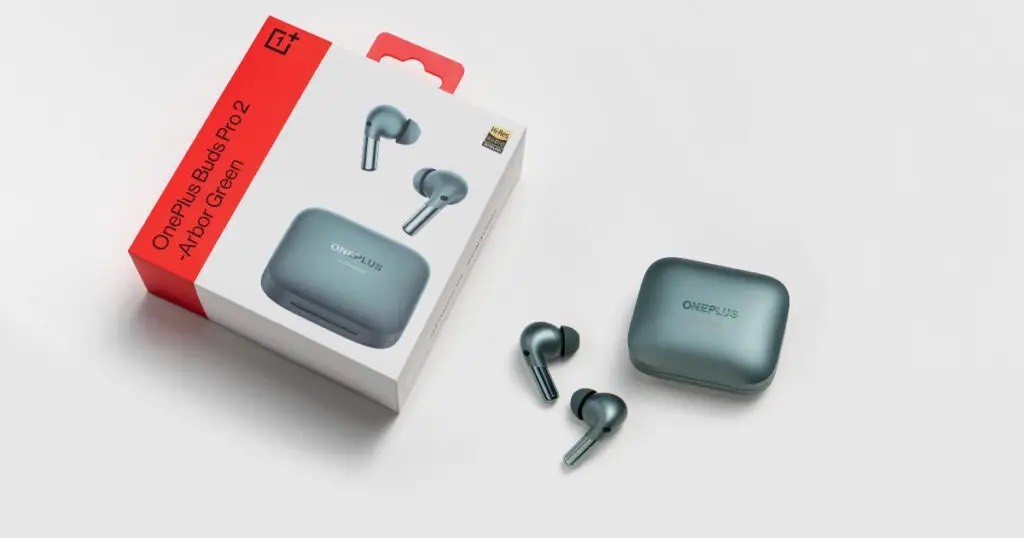 Design-wise, the OnePlus Buds Pro 2 is similar to its predecessor, however, it comes with Dynaudio tuning this time around.
The wireless earbuds feature dual drivers. They measure 11mm and 6mm in size.
The buds use Bluetooth 5.2 to connect with devices.
They offer a 'dual connection' feature, so they can be connected to two different devices simultaneously.
Just like any other premium TWS product, these also come with an intelligent Active Noise Cancellation feature.
It uses algorithms to activate ANC (up to 48dB) based on the surrounding environment.
Additionally, the Hi-Res Audio Wireless-certified earbuds support LHDC 5.0 audio codec and 360° spatial audio. They also offer up to 54ms low latency mode for gaming.
There's also support for touch controls, fast pairing with ColorOS devices, and cervical spine health function.
With ANC disabled, the IP55-rated earbuds can last up to 9 hours on a full charge.
With the charging case, users can get up to 39 hours of playback time.
With ANC enabled, these numbers drop to 6 hours and 25 hours.
OnePlus Buds Pro 2 key Specs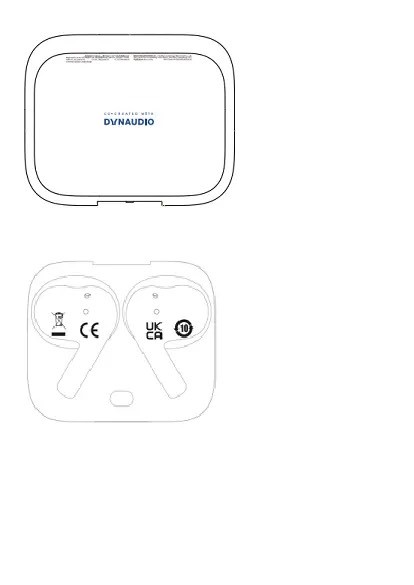 Equipment: Wireless Earbuds
Model No.: E507A
Trade Name: ONEPLUS
FCC ID: 2ABZ2-E507A
Power supply: 3.85Vdc supplied by an internal rechargeable Li-ion battery. DC 5V supplied by Adapter.
Model: 122540
Earbuds Battery Specification: Nominal Voltage:3.85Vdc
Rated Capacity: 0.231Wh
Model: 631940-1 1ICP7/19/40
Charging case,Nominal Voltage: 3.80Vdc
Battery,Rated Capacity:  520mAhl1.976Wh
Specification:,Typical Capacity:  525mAh 1.995Wh
Limited Charging Voltage:  4.35Vdc
Frequency Range: 2402MHz~2480MHz
Left earphone: GFSK: 12.00dBm
r/4-DQPSK:11.97dBm 8DPSK:11.98dBm
Transmit Power:,Right earphone: GFSK:12.44dBm
r/4-DQPSK:12.40dBm 8DPSK:12.42dBm
Type of Modulation:,"FHSS (GFSK for 1Mbps, nt/4-DQPSK for 2Mbps,8DPSK for 3Mbps )"
Integrated antenna with
Antenna,Left earphone: -2.0dBi
Specification:,Right earphone: -2.6dBi
FAQ's
1) How is the OnePlus BudsPro 2 look & design?
Ans) The OnePlus Buds Pro 2 look similar to itspredecessor, with an Apple AirPods Pro-like stem design. However, the metal trim on the earbuds appears more structured than on its predecessors. To achieve the earbuds' appearance, the company said it used a cutting-edge NCL laser coating process.
2) What are the colour options for the OnePlus Buds Pro2 ?
Ans) The OnePlus Buds Pro 2 will launch in Green & Black colour .
3) When is the launch of OnePlus Buds Pro 2 ?
Ans) OnePlus Buds Pro 2 will launch on February 7 2023 in India.
4) What are the key specs of OnePlus Buds Pro 2?
Ans) The OnePlus Buds Pro 2 TWS will feature 3 ENC noise-reducing microphones.
The TWS will also come with support for ANC (Active Noise Cancellation). Furthermore, the OnePlus Buds Pro 2 will sport 11mm dynamic drivers and will have support for Spatial Audio as well.
Coming to the battery life of the TWS, the OnePlus Buds Pro 2 will offer up to 39 hours playtime with the charging case. The buds will offer a USB Type-C charging port and will feature wireless charging support as well. As for connectivity, the OnePlus Buds Pro 2 will come with Bluetooth 5.3 support.
Also Read: OnePlus Buds Pro 2 Indian Variant Launch: Specifications Revealed
Also Read: OnePlus 11 5G, OnePlus Buds Pro 2, and OnePlus Pad Design Officially Revealed ahead of Launch on February 7
Also Read: OnePlus 11 5G price in India leaked ;prices of OnePlus Buds Pro 2 and Keyboard also leak out ahead of launch