Nokia has completed four years of its re-entry to India riding with the European firm, HMD Global, and scripting new success stories as being the most trusted smartphone brand to provide security and software updates to its users across the world. The brand is also criticized for not competing in the price versus specification race but, that rarely bothers Nokia as they believe that their holistic mobile experience is above par with others. Telling more on this, Sanmeet Singh Kochhar, Vice President of HMD Global, shared his thoughts with Haider Ali Khan, and much more as how the brand Nokia prepares itself for the New Year 2021.
Where does Nokia stand after four years of its relaunch in the Indian market?
On 1st December 2016, we had officially announced the beginning of our operations as the exclusive Nokia brand licensee for smartphones and feature phones. The last four years have been quite interesting for HMD Global and the Nokia phones brand. Our focus has been to bring a great experience to our consumers, through the lifetime of the ownership of their Nokia phones. India continues to trust Nokia phones as shown by some of the top industry research and surveys.
Nokia phones have continued to gain popularity and momentum across both feature phones and smartphones. In Q3 2020, Nokia was among the top three brands that were leading the feature phone market share (as per CMR and IDC). In the smartphone segment, our newly launched devices Nokia 5.3, Nokia C3, Nokia 2.4, and Nokia 5310 have got tremendous response from the consumers.
Additionally, Nokia smartphones have been rated as number one in Most Trusted by Counterpoint Research across the key parameters of build quality, software upgrades, and security upgrades.
We are also seeing great success in the enterprise business and have more than doubled our share in this category thanks to our comprehensive portfolio of Android Enterprise Recommended smartphones, delivering an elevated enterprise-grade smartphone experience across all price points. With 20 Android Enterprise Recommended smartphones in our portfolio, we are becoming the smartphone of choice for many large companies.
India continues to remain a top focus market for HMD Global and one of the focus for the recent $230 million investment from strategic partners, Google, Qualcomm, and Nokia Technologies.
How has the handholding of HMD Global helped Nokia in expansion and transition in its second inning?
So first of all, I want to talk a little bit about HMD Global. We are a global start-up, and we bring the best of the ecosystem for our fans and we have a very strong partnership with Google, Qualcomm, ZEISS, and Nokia.  Nokia phones are known around the world for reliability and purposeful innovation and we bring a smart and feature phone portfolio to our customers which ranges and travels across different price bands.
We are already global leaders in feature phones. Our Nokia smartphones' pure, secure, and up-to-date promise ensures users get the best Android experience and a smartphone that gets better over time. By removing bloatware and offering regular security updates, we keep our fans' data safe and secure.
Year over year, we increased our smartphone active user base from 17.8 million in January 2019 to 23.2 million in December 2019. We have smartphone activations in over 150 countries and a presence in more than 250,000 retail outlets.
We are the only European brand in the ecosystem today and recently, we have announced securing a 230 million dollars investment from our strategic partners – Google, Qualcomm, and Nokia Technologies.
We have an exciting journey ahead and we're looking to realize our strategic vision in a number of key areas. Firstly, by making 5G smartphones accessible to consumers across the world. Secondly by transitioning to digital-first offerings as part of a new post-COVID reality, as well as helping expand its presence in key growth markets like India. Finally, by further strengthening the business's leading position beyond just hardware and into a holistic mobile service provider.
I remember Ajey telling me in 2018 that Nokia will not go after the price versus specification race. Is it not hurting your prospects in the very aggressive Indian market?
Nokia feature and smartphone portfolio range and travel across different price bands from INR 1000 all the way up to INR 50,000. The segment which is less than 15K – especially below 12K is a very price-sensitive segment. We have seen in the last few years that the device market is getting commoditized. Everybody is looking at what is the spec, what is the price, whether it has one camera or three cameras, whether it is 16MP, 24MP, or 32MP. Similarly, whether it is 2GB RAM or 4GB RAM, what is the screen size.
It has become a commoditized market. In this market, the way we at HMD Global look at price is not like commodities; we look at the price-value equation over the lifetime of the device.
So for example, if someone would have bought the Nokia 5.1 Plus or Nokia 6.1 Plus 2 years ago, that were out-of-the-box Android Oreo, and would have bought another competitive device also on Android Oreo; maybe the competitor price would be INR 500 cheaper at that point, but then over a period of time these Nokia smartphones got upgraded to Android Pie, and then to Android 10. Apart from the two Android upgrades, it got additional artificial intelligence-based features like adaptive battery, along with multiple other features that are based on software upgrades. So that is one part.
The second part is, with this whole geopolitical situation that comes in, and with the whole shift towards digital, people are spending a significant amount of time on their phones as much as or more than six-seven hours in a day.  They also have a lot of their stuff including bank accounts, passwords, Google searches, messages, photos, and therefore security becomes very important. Nokia phones are the only ones that offer security updates on the device over a period of 3 years. Every month, irrespective of what Nokia smartphone you buy, starting from our 2 Series, consumers get security updates and therefore know that they have invested in the most secure devices.
As I mentioned before, we have also been rated as industry leaders by Counterpoint on build quality, where we are 33% ahead of the industry, software upgrades as well as security.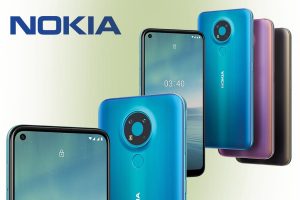 Nokia smartphones pack a good software package but fail to deliver on the last stage, i.e, when it comes to selection buyers fall for other Chinese players who are very aggressive. What are your plans to counter that in 2021?
Nokia phones are the only European brand in the ecosystem today and continue to remain one of the most trusted consumer tech brands globally and in India. Nokia phones are robust both outside and inside. We are rated industry leaders in Build Quality by Counterpoint Research, as well as industry leaders across Software upgrades and Security.
I see a lot of people just compare spec to price. We need to just holistically evaluate a phone; this is something that is growing, especially as people are now holding on to their phones for longer – up to 30 months now. They are now looking for a solid phone both outside and inside and Nokia phones are leaders there.
How fruitful Nokia's association has been with Flipkart when it comes to online reach?
We are available where our consumers need us and have a wide market presence: across 110k + retail stores through 700+ distribution partners.
Online channel is important for us. We have strong partnerships with leading e-commerce players such as Flipkart and Amazon.in. We recently launched the Nokia 2.4 online on Flipkart. We also very successfully launched Nokia 5310 on Amazon.in and launched Nokia 5.3.
We also have an online presence on Nokia.com/phones with the availability of VAS such as insurance and extended warranty. This is an important channel for us, and you'll see an exclusive pre-booking window available to our fans here for our new launches. As the official phone partner for the 25th Bond movie "No Time To Die", we recently launched a fun activity on the launch of Nokia 2.4. The first 100 customers on Nokia.com/phones for the Nokia 2.4, received a 007 merchandise hamper comprising 007 special edition bottle, cap, and metal keychain.
Do we see the dot nomenclature vanishing from Nokia smartphones in 2021 because that is quite confusing for an average buyer?
We always evaluate customer response and feedback and will take this feedback as well.
The e-learning and the over-dependence on mobile phones in the COVID era been beneficial for Nokia, and to what extent? Do you see this trend going in 2021?
When compared to laptops and tablets, smartphones, with even basic functionalities, have emerged as the first choice for teaching-learning amidst the pandemic. And it is paramount for parents to have smartphones for their children that have robust hardware and are secure and can last them. Parents should expect their smartphones to be updated regularly to ensure that potential security vulnerabilities are kept at bay and new features are delivered as they become available. At the same time, continuing compatibility with educational applications is another important aspect to consider.
Nokia smartphones tick these boxes and in fact, is a leader across these and we are seeing uptake on our enterprise side as well.
I would also like to add that during Covid, HMD donated 500 smartphones in India to the underprivileged children, especially the girl children who are not given preference to use the family's shared smartphone for education. We have received a lot of love, pictures, and testimonials from these children, their parents, and also through the NGO – Quest Alliance and Agastya. We continue to look for avenues to provide tech assistance to children by making smartphones available to them to continue their education.
Your absence from the premium segment creates doubt in the minds. Your counter on that, and would it going to change in 2021?
For the Indian market, we still have the Nokia 9 Pure View that is available for our fans. It was a unique device that offers strong imaging capabilities. We have always said that our endeavour has been to democratize technology. Consumers will see that whatever is available in the high-end i.e. pure Android, security updates, build quality, design, Google Assistant button, and more, we bring them for our consumers across price points.
While I cannot share exact future plans, I can share that we have an exciting journey ahead and you'll see us making 5G smartphones accessible to consumers across the world, transitioning to digital-first offerings as part of a new post-COVID reality, as well as helping expand our presence in key growth markets like India.