To provide affordable smart wearables to semi-urban and rural customers across India, itel has launched its first budget smartwatch. Named 1ES, the newly launched smartwatch is priced Rs 1999.
Smartwatch 1 ES by itel offers a 15-day battery backup on a single charge.  The budget smartwatch is packed with health monitoring features, a class-leading 1.7 HD IPS display and IP68 water resistance.
The brand has entered into the market after building a robust audio portfolio in the budget segment. With the launch of smartwatch, itel aims to make its mark in the AIOT space with new launches scheduled every quarter. Earlier, itel launched two models of TWS earbuds and wireless earphones to strengthen its audio portfolio in India.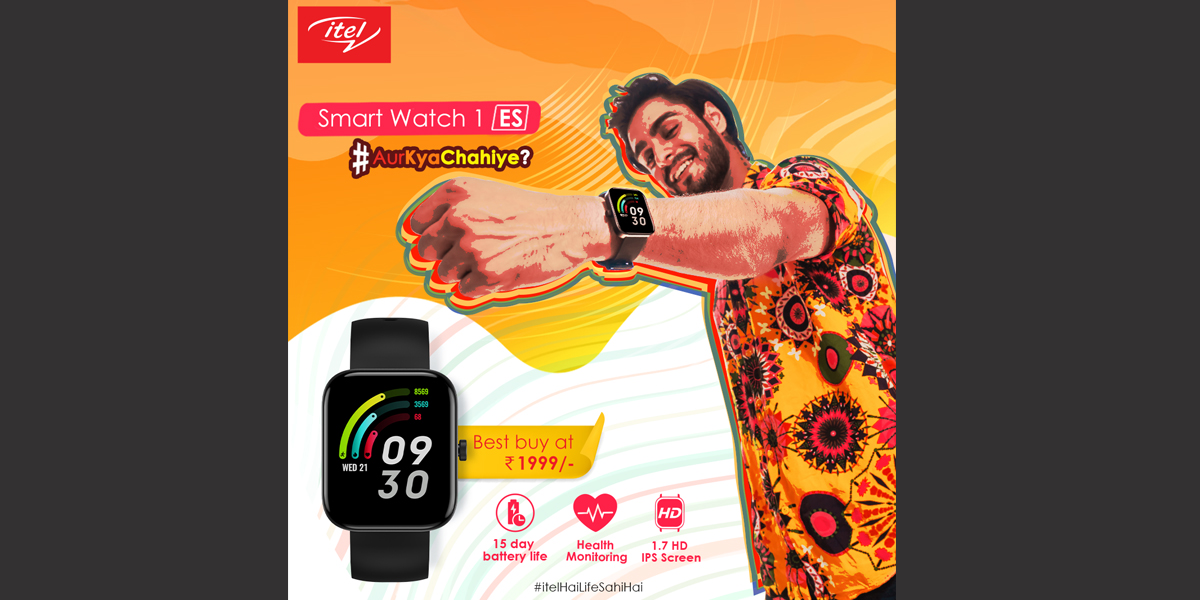 The newly launched smartwatch is packed with a host of health features such as blood oxygen monitor, 24*7 heart rate monitor and meditative breathing mode. These health features will help consumers keep up with the stress of their daily life.
With its unique digital crown design with an easily rotatable knob, the 1ES features sleep tracking and multiple sports modes such as walking, running, cycling, skipping, badminton, basketball, football, and yoga. These features help consumers to stay on top of their health goals. The rotatable knob helps navigate the watch user interface.
The smartwatch also allows users to control their respective playlists. With inbuilt music and camera control, users can take pictures through the 1ES smartwatch.
Fostering a connected lifestyle, they can also keep up with everyday text messages, emails, social media alerts, weather alerts, alarm clocks, and calendar alerts with its smart notification feature. It also caters to the gamer in you with support of inbuilt games like Thunder Battleship, Young Bird and 2048. itel's service promise stands strong as it offers 1-year warranty through the trusted network of CarlCare service centres.
According to Arijeet Talapatra, CEO, TRANSSION India, with the launch of 1ES TRANSSION India aims to take its smart wearable offerings to the semi-urban and rural customers in India who look for value in every purchase.
Also, Read Here: Gizmore partners with Snapdeal to launch budget-friendly women-centric smartwatch at Rs2,699
Talapatra emphasized that TRANSSION India has always tried to make sure that the benefits of technology are available at an affordable price in India and this smartwatch is a reflection of the company's commitment to it.
Further, he said that TRANSSION India always tries to bring the right products to the Indian market based on consumer needs. To meet the aspirational need of the young and vibrant generation of Bharat, TRANSSION India forayed into the wearable segment.