Domestic gadgets and smartphone accessories brand iGear has launched SenseLED, a touchless ambient light illumination solution for any room with nine different light colours and eye protection mode. The iGear SenseLED uses the latest technology for gesture control and a rechargeable battery makes it usable for 12 hours on a single charge.
Neha Sharma, Co-founder, iGear, said, "The iGear SenseLED is a superb and affordable ambient lighting solution for every household, it's a great accessory for the bedroom, living area, study area and kids' rooms. Integrated with today's modern technology for gesture control and motion sensing, the SenseLED is a must-have accessory for every home."
The iGear SenseLED is a simple and elegant, yet powerful 5W ambient lamp that's integrated with a motion sensor for touchless operations. Sized no larger than a standard kid's lunchbox, the SenseLED is equipped with multi-coloured LEDs that produces nine different colour variants of light with options to vary the intensity from dim to full bright.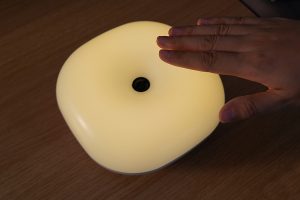 Built with a touch of modern technology, the iGear SenseLED features a motion sensor that works with gestures or hand movements. Wave your hand a few inches over the lamp and take control of its illumination within seconds – no buttons, no touching needed. Simply wave to change colours or hold for intensity variations and to choose from nine different lighting options and brightness. You can also set it to automatic colour-cycling mode. The in-built LEDs are designed to produce a soothing dim illumination for sleeping, or an increased brightness good enough for reading at night. A great accessory for your bedside or study table. A great mood light accessory for any occasion too.
Lastly, the iGear SenseLED features a 1,500mAh in-built lithium-ion battery that can last a good 12 hours on a single charge or up to 350 hours on standby. Using a standard microUSB smartphone charger, you can top up the battery in just a few hours. The SenseLED is built using Acrylonitrile Butadiene Styrene which is strong, rugged and eco-friendly too. And being highly portable, you can easily use it outdoors during camping or alike.
A great gifting option too, the iGear SenseLED is available in White colour for an introductory price of Rs 1,950. It comes with a standard industry warranty of 1 year and can be purchased from Amazon.in and Flipkart.com.