Domestic mobile accessories brand Bluei has announced a new power bank called Thunder that comes with 10,000mAh polymer battery. The Bluei Thunder has dual input ports- Type C and micro USB and has two USB output ports. This gives the power bank the flexibility to work with a wide range of devices like Androids, tablets, cameras, headphones and Type C-enabled gadgets.
The power bank claims to offer a conversion rate of up to 90%, which makes it a great power source for your gadgets. A 5,000mAh phone can be charged around 2-3 times in a single row at its full capacity.
This power bank automatically adjusts its output according to the connected devices. It has more than 300 charge/discharge cycles so that you effortlessly stay connected to your contacts and the world of entertainment for a longer period of time.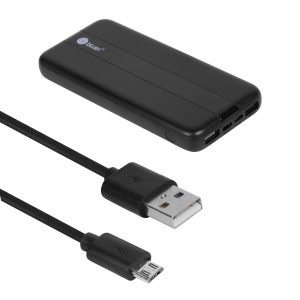 The Bluei Thunder power bank is compact in size and light in weight. Its outer body is made of strong ABS plastic material and it is wrapped in a smooth finish to create a scratch-resistant profile.
For safe operation, Bluei Thunder is equipped with Intelligent Integrated Circuit which has over 7 layers of protection to safeguard from hazards like short circuits, overcharging, overvoltage protection and many more.
Priced at Rs 1,850, the product comes in Black colour and is available at Bluei's online store.
Akhilesh Chopra, Sales Director, Bluei, said, "It is a high-quality and long-lasting power bank with high reliability and a failure rate less than 1%. Bluei power banks provide the output that is promised in specs where most other power banks available in the market don't provide what they promise and their performance also drops rapidly with time. If at all a customer has any genuine issue with the power bank, we replace it with a new one."
"As smartphone users are increasingly playing games, watching videos and surfing the internet even while travelling, sufficient power supply has become a demanding factor making power banks indispensable and handy storage devices," he added.