In light of the surging cases of COVID-19 infections in the country, various states have decided to declare summer vacations in schools, earlier than it was originally planned. And like the last year, parents are a worried lot this time too, about how to engage their kids during free time in over month-long holidays. Neither summer camps nor are the neighbourhood institutions open to offer them the hobby classes. The fear of coronavirus is such in the air that not only parents, even the kids are cautious of the impending danger outside their homes. In such a situation, children are finally at a loss to utilise their pastime in activities that satisfy them the most.
Storytelling apps or those imparting moral and educational values to children could be of great help to today's parents who are mostly living in nuclear families. These apps can be best pastime for children getting bored indoors. With technology fast becoming an integral part of life from a very early age, we suggest you to download children-friendly apps on your phone/tablet and give the device to them for a pre-decided time slot after switching off the internet. Here is a list of some most popular apps available for iOS and Android devices.
Bulbul Apps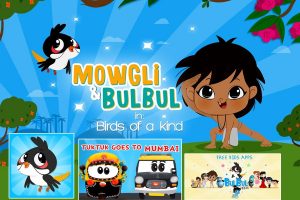 Bulbul Apps, founded in 2015 by filmmaker Prakash Dantuluri, so that his daughter could be familiarized with traditional and regional stories of India, offers a variety of interactive stories and rhymes that are animated and illustrated. The bedtime stories with moral lessons are user-friendly and children find them attractive. There are stories from all around the world and the app is updated regularly with new books and stories. The central character in many of the stories is 'Bulbul', the bird "curious and constantly in pursuit of discovering new things".
The app library has something for every kid aged up to eight. The 'What is it' series, for example, helps children learn about animal sounds and names, while the 'Baby Bath Time' story has a baby going for a bath in the tub on her own for the first time. There is this 'Potty Potty' story that has infant Tommy in a fix when his mom runs out of diapers and asks him to start using the potty. In 'Baby's First Zoo', the dad takes the kid to the zoo to answer all her questions about different animals, birds and insects. 'Mowgli and Bulbul' series has Mowgli, the little boy raised in the jungle by a bunch of wolves, and his 'best friend Bulbul' set out on their adventures in the jungle. Bulbul Apps has interpreted the The Jungle Book classic in a modern way, designing it in the form of an interactive ebook application.
It has also introduced the digital natives to Indian mythology with its 'Adventures of Krishna' series, which is already a hit with children. The segment is dedicated to the stories of little Krishna and his adventures in Vrindavan.
It also has a Tuk-Tuk series, a 'travel app for kids' that helps them discover a city in an interactive manner. While 'Tuk-Tuk Goes To Mumbai' happens to be the first product of the series, 'Tuk-Tuk Goes To Hyderabad' was launched later. The children can explore more cities of the world riding the colourful three-wheeler through this app, in future. The Bulbul Apps library also has famous fairy tales and other bedtime stories, such as 'Cinderella', 'Snow White' and 'Pinocchio', in animation format. The size of an average story is 20MB, with the developers currently working on bringing it down further to 10MB. Bulbul Apps has dozens of apps in its library and the number is growing.
Currently available in English, Hindi and Telugu, the content will be available in all major Indian languages in the days to come, according to the developers. Price: Free/Paid
AppyStore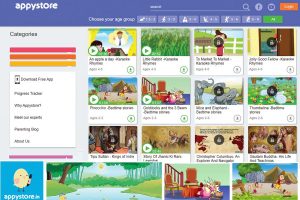 Offering variety for children, Appystore is India's first comprehensive learning app for kids aged up to eight years. It keeps your little ones engaged and provides holistic learning through productive edutainment. Apart from popular fairy tales, the app has an 'Indian Superheroes' segment featuring inspiring tales of bravery and wisdom of some great Indian icons, such as Rani Laxmibai, Chhatrapati Shivaji, Rajpur warrior kings, and other freedom fighters. The section also has interesting and informative stories, such as the history of Indian Rupee and Indus Valley Civilisation, catering to children aged 5-8. The AppyStore library also has a collection of rhymes, colouring and alphabet apps for pre-schoolers. An interesting feature is the Karaoke Rhymes section that allows children and parents to sing along. Every song has the first half with voice, and the second half repeating the rhyme without voice for kids to sing along and practice.
The app is easy to use and provides ample space for kids to watch and learn new things. With thousands of videos classified across 18 learning areas, it enables children to improve their logical thinking with fun puzzles, to learn the importance of physical fitness, to get involved in outdoor activities and to imbibe good socio-emotional values. The app allows parents to keep a check on their child's progress in various learning areas based on the number of videos viewed. Also, the app offers no ads, pop-ups or redirects to other websites or portals. That makes it totally safe to use for kids, who would require no additional supervision.
The app works on a subscription-based payment model and offers different month plans. The app, with videos, can be accessed through the Appystore web-portal – http://www.appystore.in/ Price: Paid
FunDooDaa Books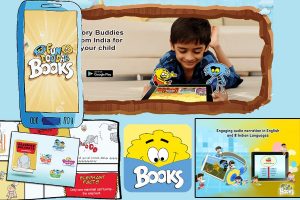 This is said to be the country's first multilingual story app which was launched couple of years back by Chie Media Pvt. Ltd. FunDooDaa Books is an e-library of stories and is meant to impart learning through stories. This app is suitable for kids aged between 2 and 8. FunDooDaa Books app is available in different languages and has stories in English, Hindi, Tamil, Telugu, Malayalam, Kannada, Gujarati, Marathi and Bengali. Also, there are stories that will inculcate the Indian culture and heritage among kids such as Naana & Naani, Royal Tales & Legends, etc. The app is aimed to entertain kids and also make them learn and communicate in their mother tongue. The app gives special emphasis over improving the reading skills, vocabulary, and observational skills of the kids. Price: Free
Amar Chitra Katha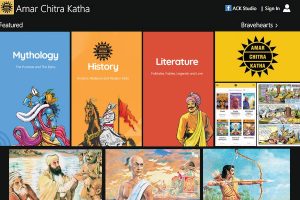 This is for children of all ages. Dubbed as ACK Comics, the app offers more than 300 titles on personalities such as Akbar, Chanakya, Jawaharlal Nehru and JRD Tata to users. The app has been developed by App9 Digital Studio, the digital division of Ninestars Information Technologies Pvt. Ltd. The digital comic is available in a flip-book mode as well as panel-by-panel mode which is convenient for smaller devices. Users can download and read their comics on multiple devices using a single user account. Amar Chitra Katha is one of India's oldest and most loved comic series.
Storyteller to generations of Indians, the ACK in collaboration with the Ministry of Urban Development few years ago came out with a special edition of a comic book focusing on Swachh Bharat Mission. The 36-page edition based on a story telling format having five narratives also refers to how Chandragupta Maurya's trusted minister Chanakya had a list of fines for crimes that included defecating or urinating in public places. Higher fines were imposed for doing the same near temples, the royal palace or a water reservoir. In the first elaborate story on the traditions of cleanliness in the country, story-telling 'uncle Anant' narrates to kids how in Vedas, the relation between diseases and poor hygiene was highlighted and Manusmriti prescribed the need for a clean body for a clean mind and clean community. The publication also includes true stories about elaborate systems for ensuring sanitation as early as 2,500 years ago during the Indus Valley Civilisation.
The ACK is also working with game developers to tell stories that are in tune with the times, in an interactive fashion. Price: Free/Paid