Highlight
Boult Audio has recently launched its latest budget TWS Earbuds – Boult W20 – at the price of Rs 899.
The earbuds also come with 13mm drivers, Bluetooth 5.3, BOULT BoomX Tech and ZEN Quad Mic ENC for enhanced voice clarity.
It offers up to 32 hours of playtime and its fast charging capability provides 120 minutes of playtime in 10 minutes.
Recently unveiled Boult W20 TWS earbuds bring an exciting sound profile and classic design to the budget-friendly under Rs 1000 earbuds category.
Here's our in-depth review.
Boult W20 TWS Earbuds – Key Features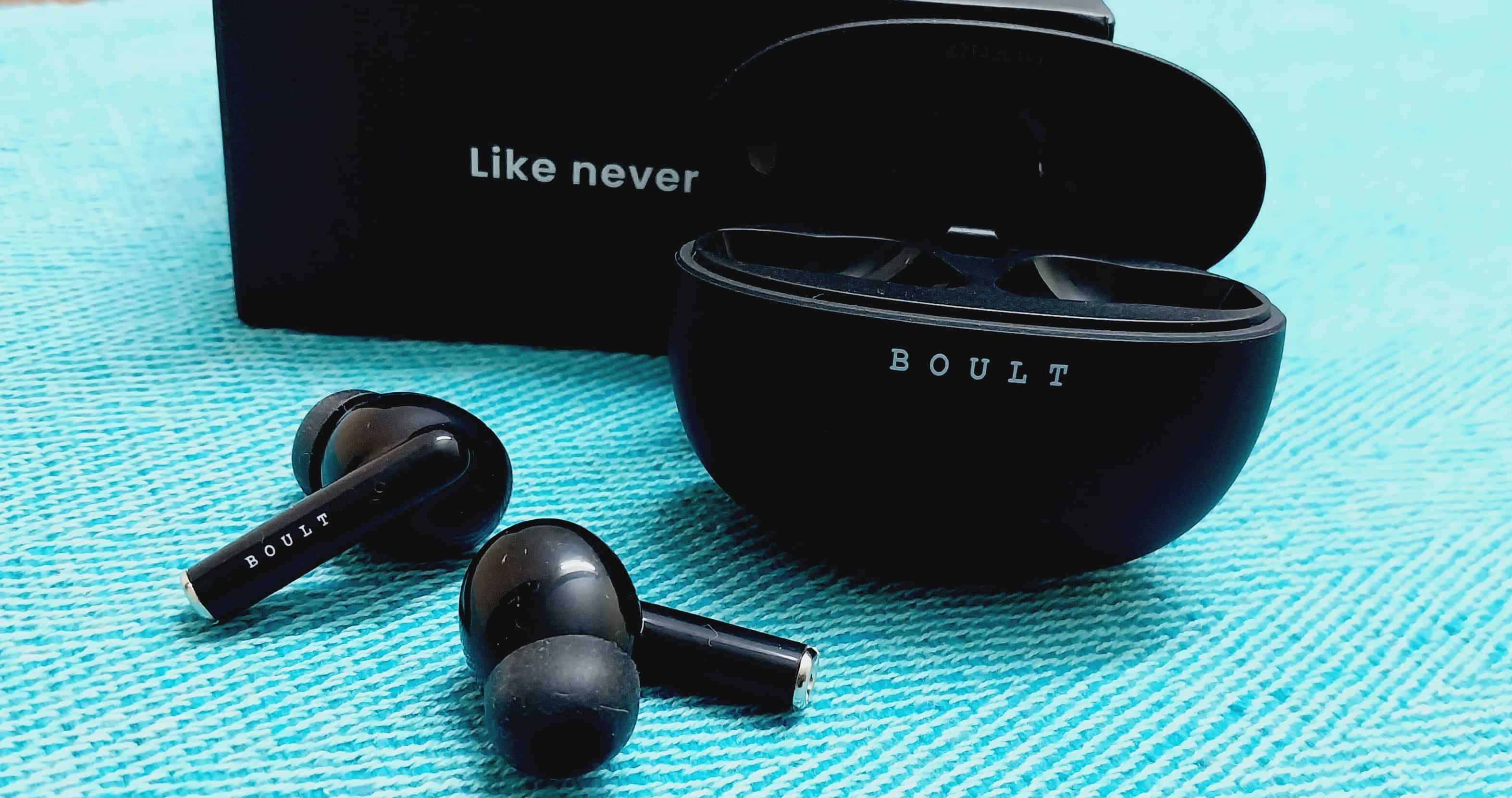 13mm BoomX Drivers
Zen ENC Mic
Dual Master
Bluetooth 5.3
45ms Ultra-Low Latency Gaming
Voice Assistant
32 Hours Playtime
Fast Charge Support
IPX5 Water Resistant
Boult W20 TWS Earbuds – Pros & Cons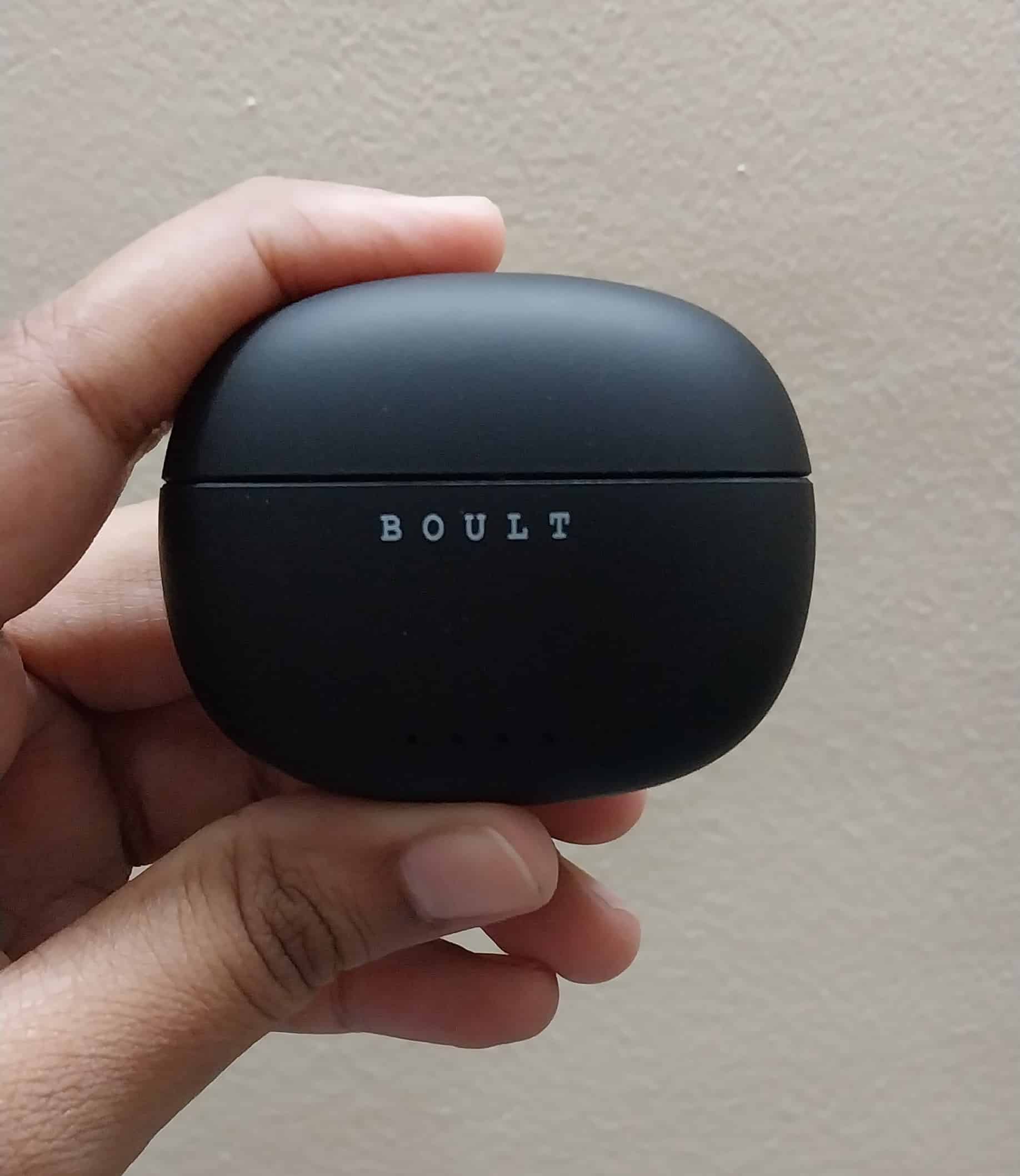 Pros
Cons
●     Classic design

●     Good build quality

●     Comfortable fit

●     Good loudness

●     45ms low latency for gaming

●     Decent battery

●     Fast charge support

●     Affordable

●     Case catches dust easily

●     Sound leakage issues

●     Touch controls are too sensitive

●     ENC isn't consistent
Boult W20 TWS Earbuds – Design and Fit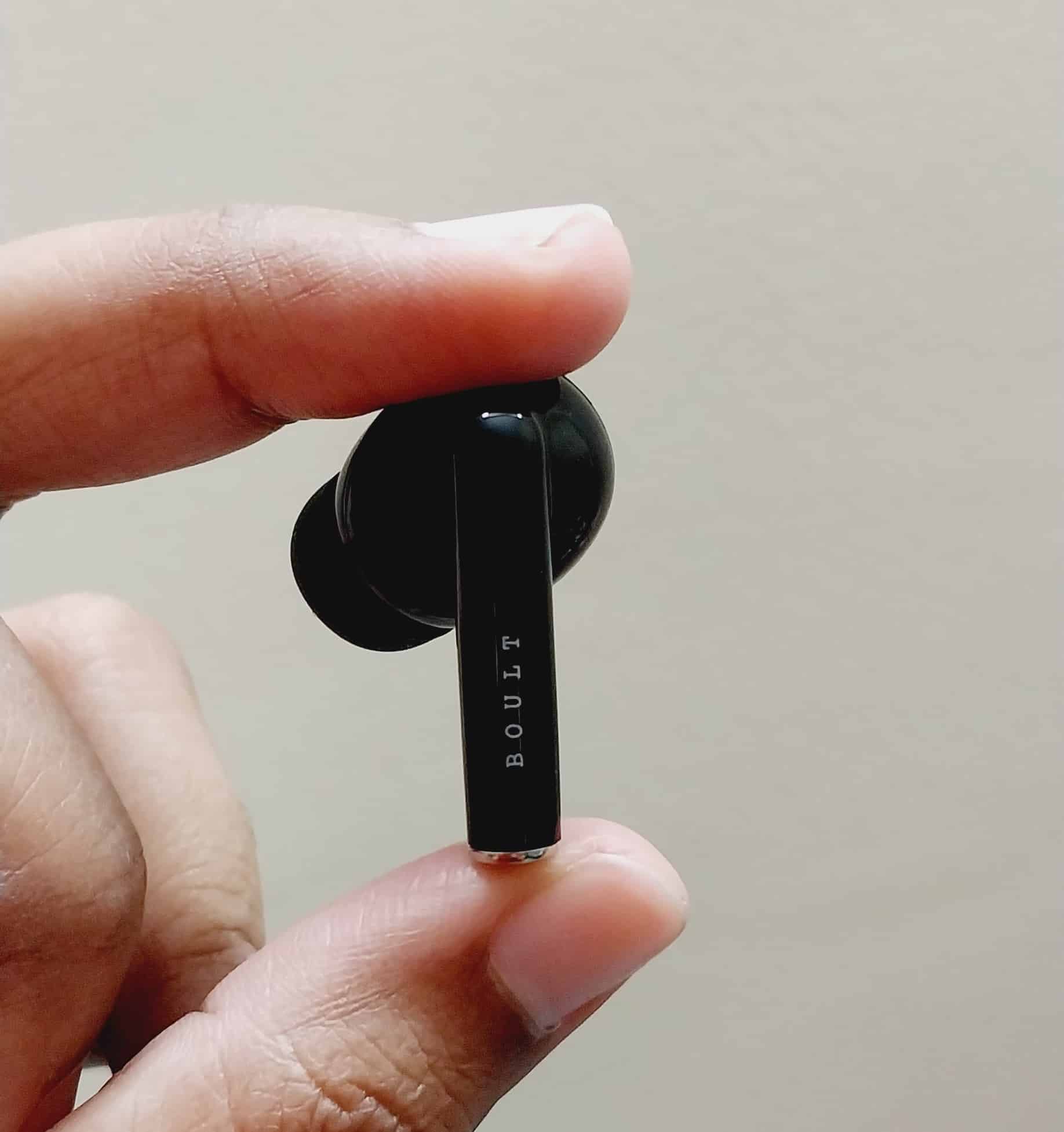 The Boult W20 TWS Earbuds case boasts a soft-textured matte finish, offering a premium feel and compact form factor that easily fits in your pocket.
However, the soft texture of the case catches dust very easily. It might become difficult to keep the case clean.
The Space Black variant, we had for this review, exudes a minimalist design. It instantly gives off a high-end impression.
The Boult branding on the front adds to its aesthetics.
The case features a robust hinge and reliable magnetic closure, ensuring the earbuds stay secure and protected.
The earbuds themselves feature a glossy finish and a unique smaller stem design.
However, they lack "L" and "R" markings for easy identification.
The earbuds provide a comfortable fit, and Boult includes extra ear tips to accommodate various ear sizes, making them suitable for extended wear.
With an IPX5 rating, these earbuds can withstand light splashes and sweat, enhancing their durability for workouts and daily use.
Boult W20 TWS Earbuds – Sound Quality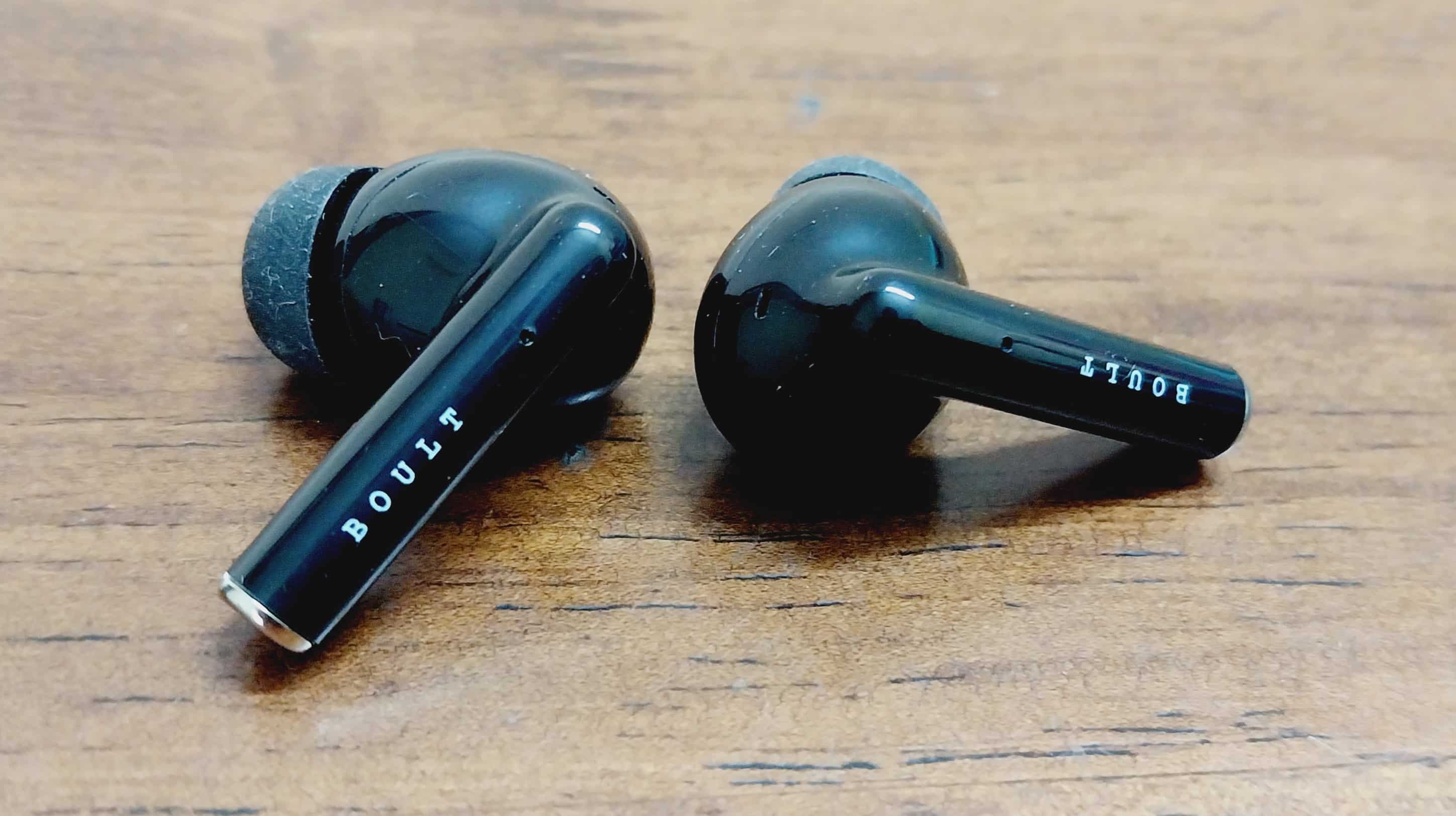 With their 13mm drivers, the audio quality of the Boult W20 TWS earbuds is nothing short of impressive for the segment.
It also comes with the "BoomX Tech" for supreme bass. The bass is incredibly deep and punchy, adding a whole new dimension to music and movies.
Whether I'm vibing to bass-heavy tracks or getting lost in action-packed movie scenes, these earbuds consistently deliver a thrilling audio experience.
The audio is remarkable as well. The mids and highs are crisp and well-defined, allowing me to pick up on every nuance in your favourite songs.
This clarity enhances the overall listening experience, especially for vocals and instrumentals.
Moreover, W20 can crank up the volume to really high levels without losing clarity or causing distortion.
It makes them perfect for those times when you want to immerse in music or block out the noise around.
Boult W20 TWS Earbuds – Features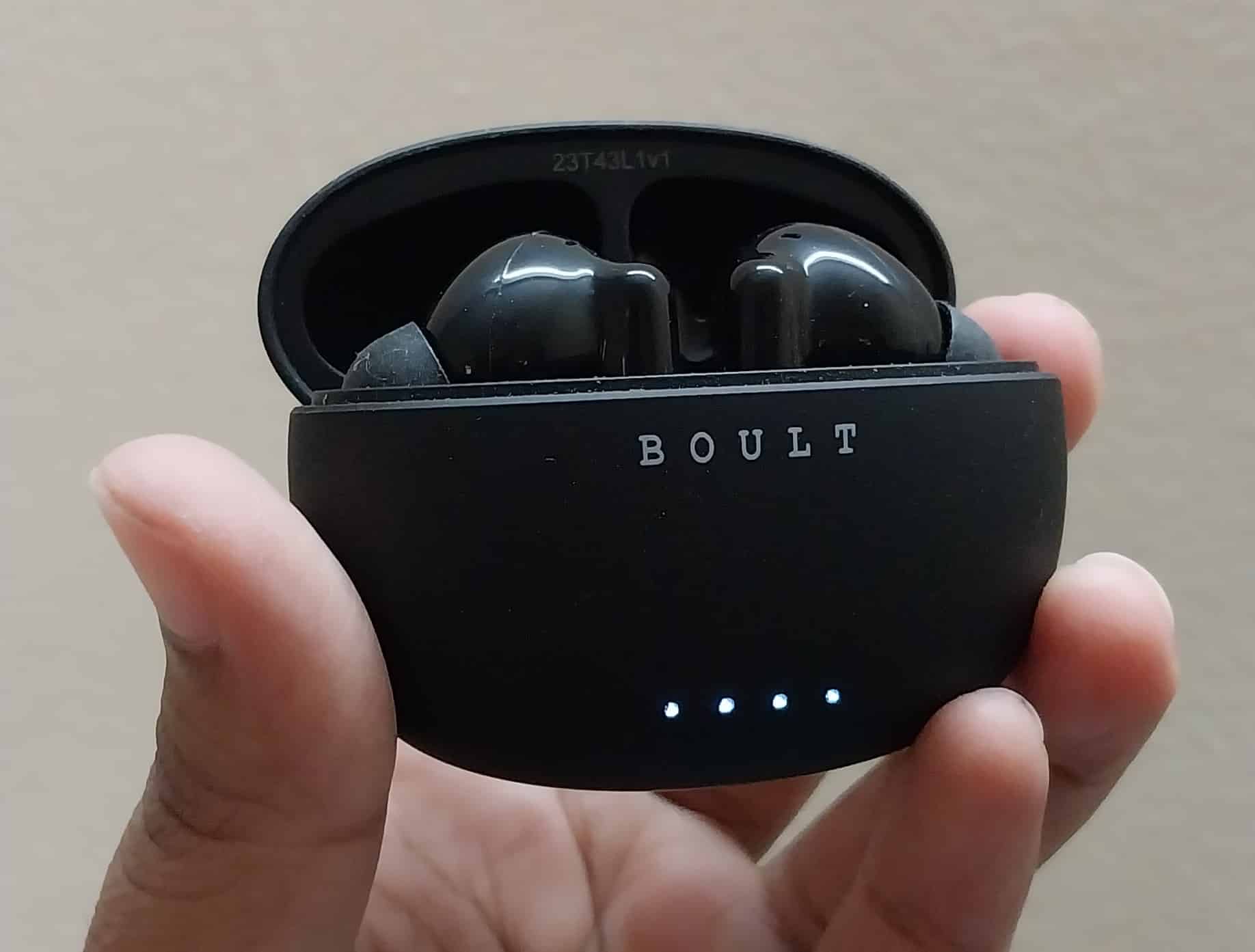 These earbuds come with a special Zen ENC Mic that promises to make your phone calls sound super clear and smooth.
Considering the price segment, we were pleasantly surprised by how crystal clear my phone calls sounded.
It almost felt similar to having face-to-face conversations even when we were on the move.
If you're into gaming, you'll definitely love Boult W20 TWS Earbuds. They have an ultra-low latency of just 45 milliseconds.
Perfect for gamers! For the price segment, this is a total game changer.
We extensively tested the earbuds while gaming. Playing games on W20 became incredibly immersive. We experienced virtually no delay between the action on our screen and the sound in our ears.
These earbuds use the latest Bluetooth version 5.3, which gives you a solid connection to your device.
You can stay connected up to 10 meters (about 33 feet) away from your phone or tablet without any problems.
So you can move around freely without losing your music or call.
Whether we were working out or just moving around the house, our music and calls stayed seamless and uninterrupted.
These earbuds are also seamlessly integrated with voice assistant.
It allows you to control your devices, check the weather, or send texts with simple voice commands, making your daily tasks more convenient and hands-free.
Boult W20 TWS Earbuds – Battery Support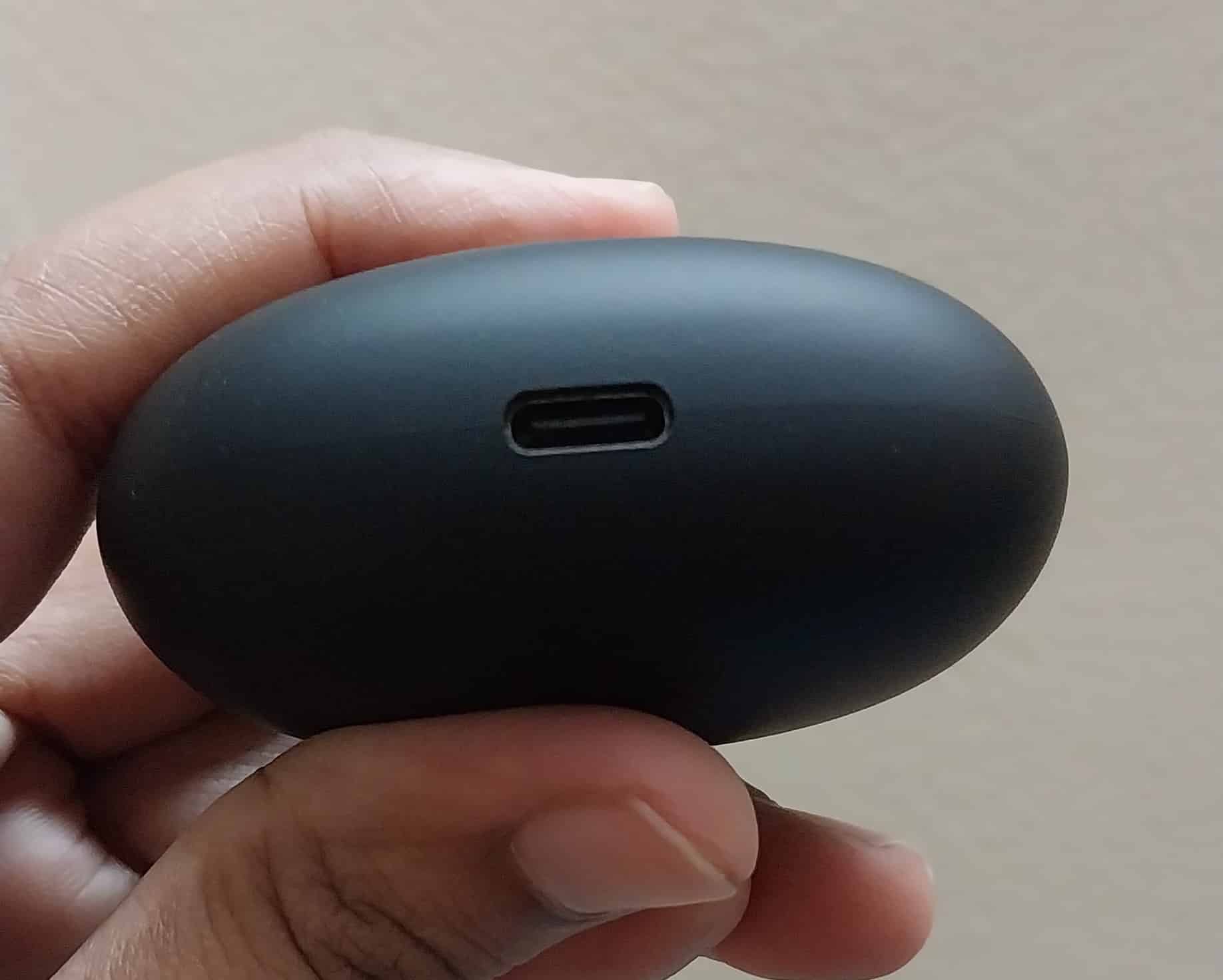 The Boult W20 TWS earbuds come with an impressive battery life. With a total playtime of 32 hours, you rarely have to worry about recharging them.
This meant you could enjoy music and calls throughout the day without constantly reaching for the charging case.
Speaking of the charging case, the Boult W20 has a lightning-fast Boult Type-C connector.
It makes recharging the earbuds quick and hassle-free. In fact, the fast charging capabilities were especially handy when in a hurry.
With just a 10-minute charge, you could get a whopping 120 minutes of playtime.
Verdict – Should You Buy Boult W20 TWS Earbuds?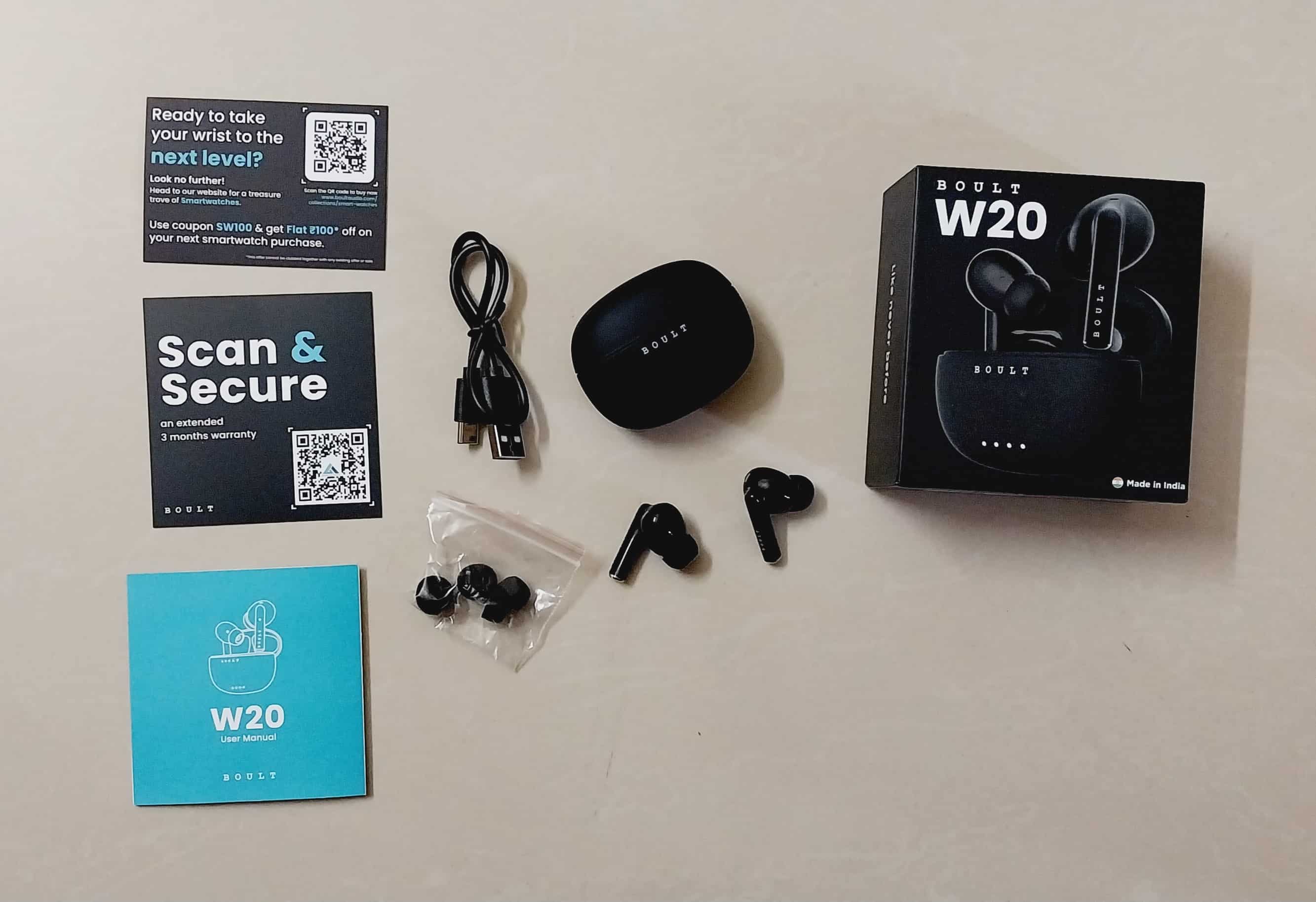 The Boult W20 TWS earbuds combine a sleek design and convenient features like fast charging and strong connectivity.
With crystal-clear calls, lag-free gaming, and comfortable fit, these earbuds offer an excellent audio experience for both music enthusiasts and active users.
Moreover, W20 TWS earbuds, with their 13mm drivers, BoomX Tech, impressive sound clarity, and high loudness capability, have everything that can redefine the audio experience in this price segment.
Boult W20 TWS Earbuds – My Mobile Ratings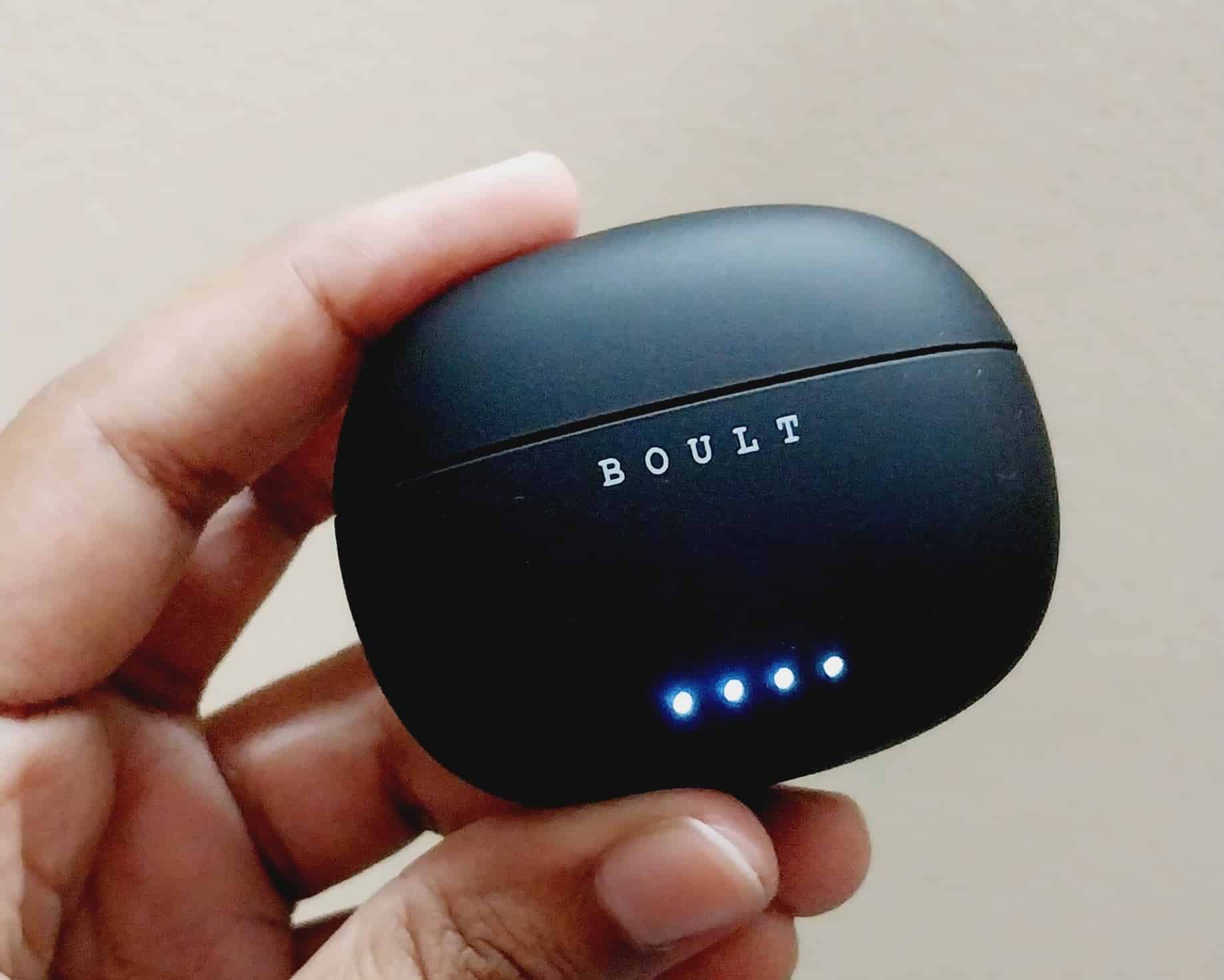 Design – 3/5
Fit – 3/5
Sound Quality – 3.5/5
Call Quality – 3.5/5
Battery Life – 3.5/5
Buy Boult W20 TWS Earbuds For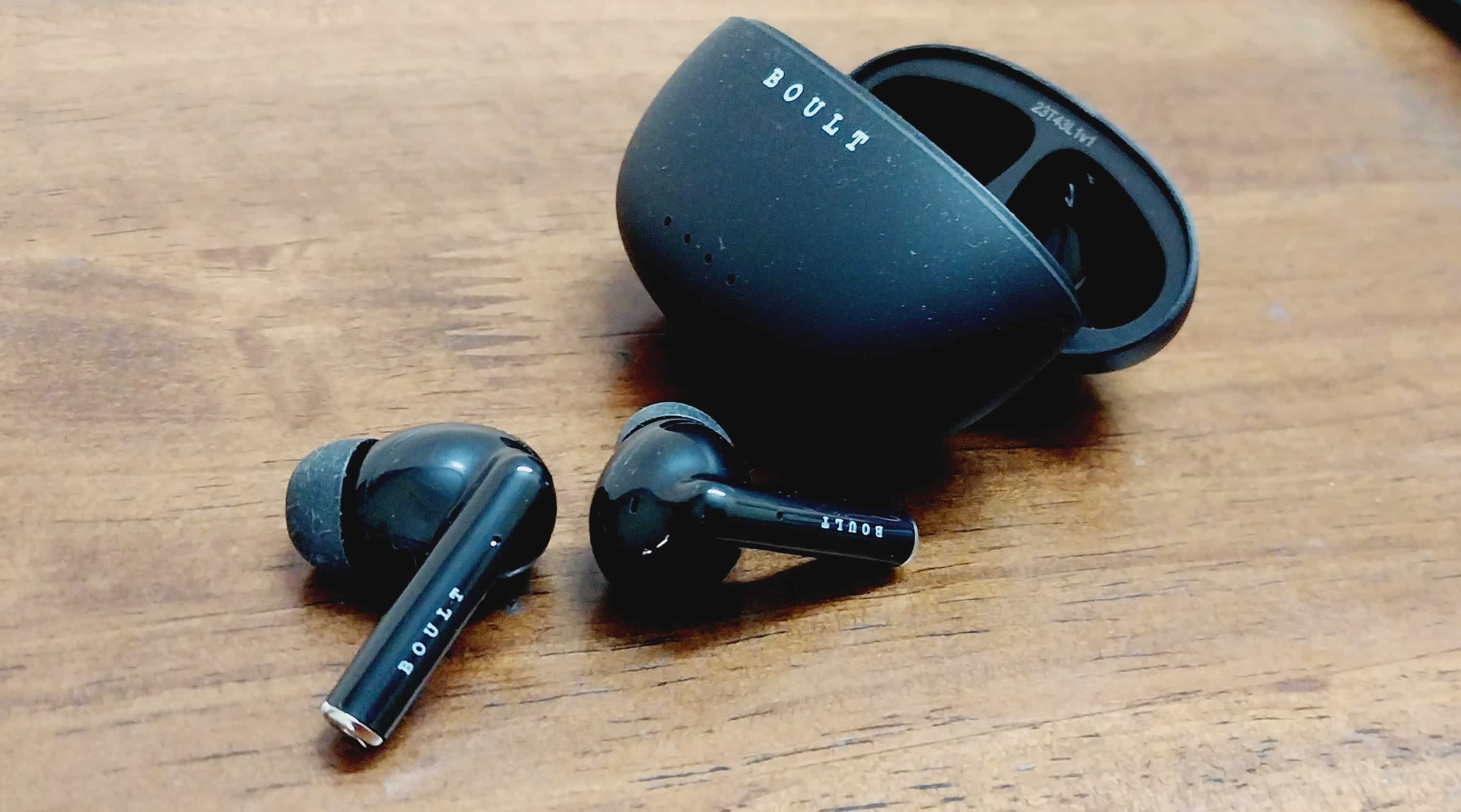 Budget-Friendly
Classic Design
Comfortable Fit
Good Sound Quality
45ms Low Latency for Gaming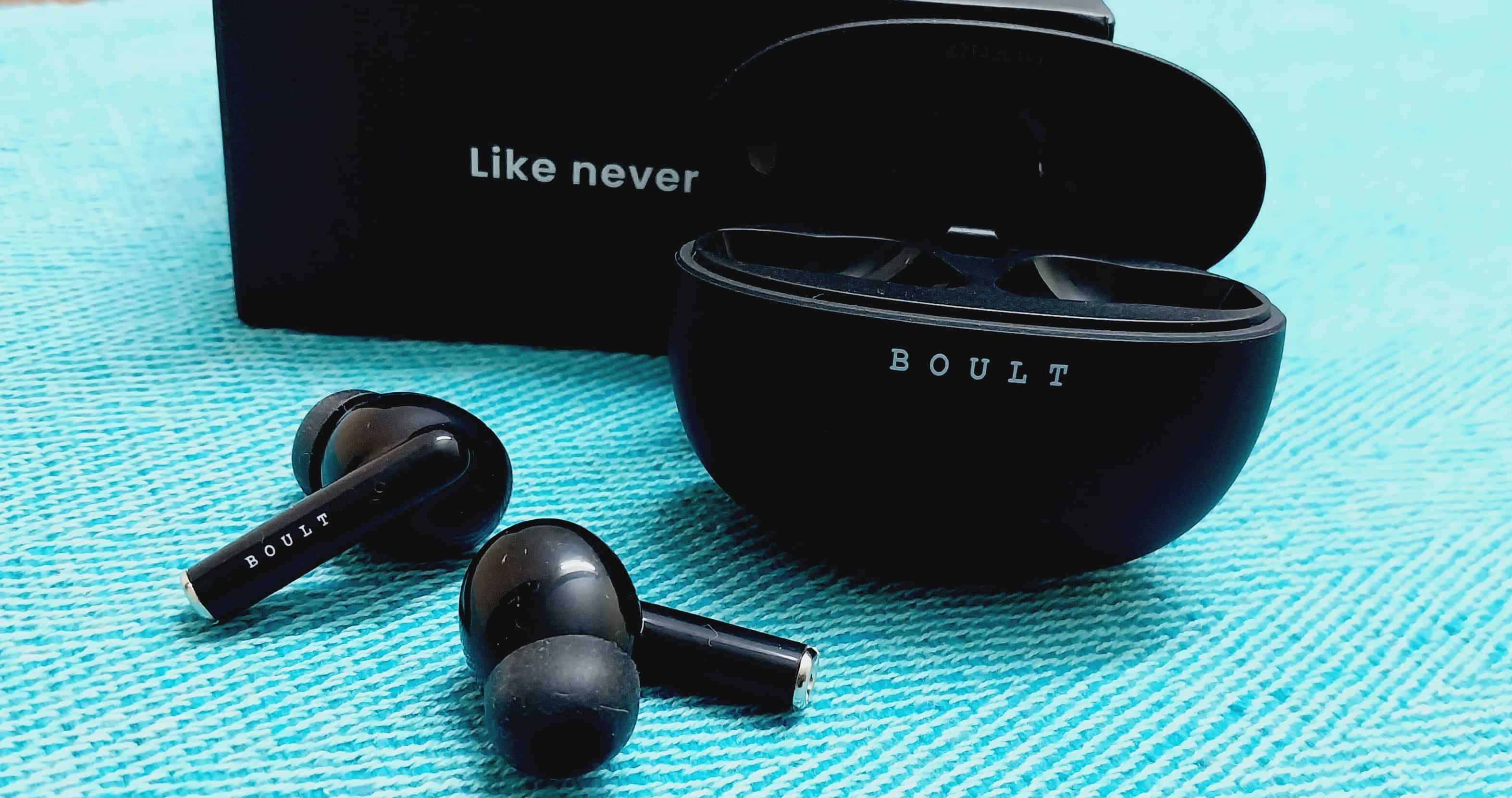 FAQs
Q1. What is the battery life of the Boult W20 TWS earbuds?
Answer. The Boult W20 TWS earbuds offer a total playtime of 32 hours on a single charge, making them ideal for all-day use.
Q2. How fast can the Boult W20 earbuds charge, and how much playtime do you get with a quick charge?
Answer. These earbuds support fast charging. Just a 10-minute charge can provide an impressive 120 minutes of playtime, perfect for quick top-ups on the go.
Q3.Are the Boult W20 earbuds suitable for gaming, and what is their latency?
Answer. Yes, these earbuds are great for gaming with an ultra-low latency of just 45 milliseconds, ensuring minimal delay between the action on your screen and the sound in your ears.
Q4. Can I use voice assistants with the Boult W20 TWS earbuds?
Answer. Absolutely! These earbuds are compatible with voice assistants, allowing you to control your device, check the weather, or send texts with simple voice commands for added convenience.
Also Read: Boult W40 TWS Earbuds Review – Made in India Earbuds with Quad Mic ENC, 48H Battery Life, Low Latency Gaming
Also Read: Boult Z60 Hands-On Review – Affordable Earbuds with 60hours Playtime and Quad Mic ENC Clear Calling
Also Read: Boult Unveils Z60 Earbuds, Dive into Seamless Audio Experience with 60 Hrs Playtime and Quad Mic ENC Technology: Price, Availability & Features