One sector that has registered phenomenal growth numbers during the pandemic-hit 2020 is edtech. A number of edtech platforms were either launched or gained popularity during this period, as remote learning became a new normal due to closure of schools and colleges. One of such apps that made its presence felt emphatically during this period is Aristotle, which is India's first social learning app developed by edtech pioneer Digital Aristotle.
The app caters to students studying from class 6 to 12 and provides assistants in subjects such as Mathematics and Science. The app covers both CBSE and ICSE curriculum for the aforementioned classes.
Downloading the app
The mobile app is currently available on Google Play. With a user rating of 4.2, the app has already registered more than 50,000 downloads. The size of the app is just 12 MB and hence, it does not hamper the functionality of your mobile phone.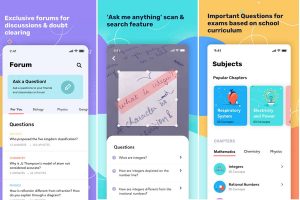 Getting started
Once you download the app, you are required to sign up by entering your mobile number. After the mobile number is entered, the app shares an OTP with which one can log in with ease. Following this, you need to enter a few basic details such as name of student and class in which the ward is studying. You also need to choose whether the student needs services for CBSE or ICSE curriculum. After filling these details, the students need to enter additional details such as name of the school they are studying in and the district and state where the institution is located.
How it works
The app caters to the various needs of students with regard to completing their learning cycles. Unlike other similar apps, it provides services that do not replace but aid the classroom learning of an individual. Special impetus has been given on conducting revisions and a dedicated section is there on the app for the purpose. On a day-to-day basis, different topics from either Science or Mathematics are featured in the section. For instance, if the featured topic is Food and Nutrients, then students are redirected to a multiple choice quiz wherein questions such as 'Roughage is usable for our body because' are asked. If students answer it correctly, they are redirected to the next question and if they fail to do so, they are given a detailed answer to understand the concepts. Apart from this, there is a lot of focus on imparting knowledge through gamification techniques. For example, a student can take different topic-based challenges wherein they can compete with peers or a bot. There is a forum as well to ensure instant doubt clarification wherein students can post their queries that would be answered by subject matter experts.
Conclusion
The app is a perfect solution for students who look for additional tools to enhance their subject-based knowledge. The app is quite interactive and makes the process of learning fun. The subjects – Science and Mathematics – are covered by the app in a comprehensive manner.